KBS retracts AOA's "Music Bank" win and awards it to TWICE after recount
On the latest episode of KBS's Music Bank, girl group AOA narrowly defeated rookie group TWICE to take home their first public broadcast music show win for their latest comeback "Good Luck." 
However, after checking the scores, many fans accused the show of miscalculating the FNC Entertainment group's final score, as the amount of points given to albums sold as it doesn't seem to correlate correctly to points given to other artists who sold more physical albums. And after a recount, however, the show announced that they did indeed miscalculate and retracted AOA's win, instead awarding it to JYP Entertainment group instead.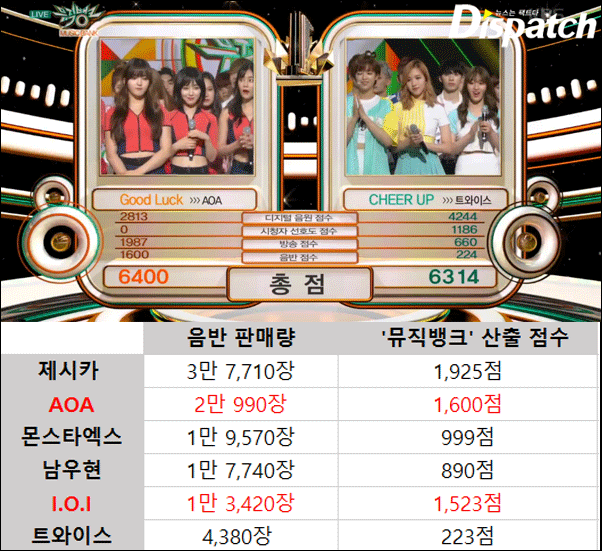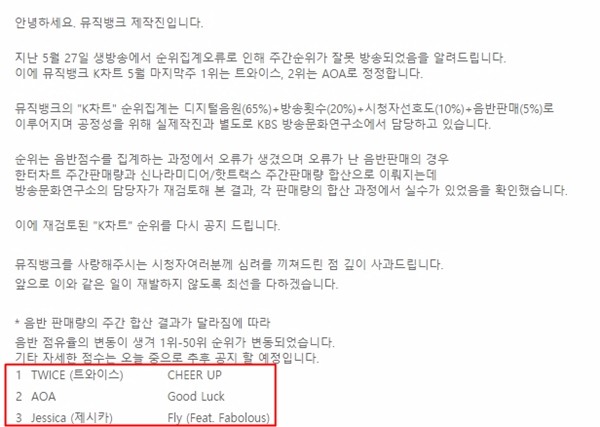 Hi, this is the producers of Music Bank.
We would like to inform you that there was an error in last week's rankings and we would like to announce that the rankings for the last week of May is #1 TWICE and #2 AOA.
Music Bank's "K Chart" consists of "Digital Download (65%) + Number of broadcast instances (20%) + Viewer preference (10%) and album sales (5%). And all this information is collected by the KBS Broadcast Culture Research Facility to keep things unbiased.
In collecting data for last week's ranking, there was an error in the album sales data. The sales are collected on the data bases of Hanteo charts, Sinnara Media/ Hot Tracks and we discovered after checking that there was an error in adding the collected data.
We are sorry to have worried our viewers and will make sure nothing like this happens again.
Due to the change in the weekly album sales there has been a change in rankings 1~50. More details will be announced further within today
1. TWICE – CHEER UP
2. AOA – GOOD LUCK
3. Jessica – FLY
Source: Dispatch
Share This Post