Kim Go Eun pens heartfelt letter for everyone who supported Goblin
Kim Go Eun wrote a handwritten letter thanking all the fans of "Goblin" for the continued support and how she feels about the drama ending.
HODU&U ENTERTAINMENT, Kim Go Eun's entertainment company, uploaded on January 23, a letter written by Kim Go Eun for her fans.The post was titled: "Gon Tak's Letter" and readers of this letter could not help but feel like Kim Go Eun when she talked about her thoughts on the drama ending.
Check out the letter's translation below!
Thank you for supporting "Goblin" and "Eun Tak" all this time.

I still can't believe the drama has ended and now I feel like blowing a candle will make a goblin appear 🙂

I am very happy for meeting "Eun Tak" through this drama; it was a very thankful winter.

Also, "Eun Tak" is living her second-life happily after meeting the goblin and I'm sure they are spending a very happy time together.

I will always treasure the love you have sent me and I will
become a Kim Go Eun that shows a better self.

P.S After meeting the drama "Goblin", every moment was blindingly beautiful. Because the weather was great, because the weather was terrible, because the weather was perfect…every day was amazing.

 – Kim Go Eun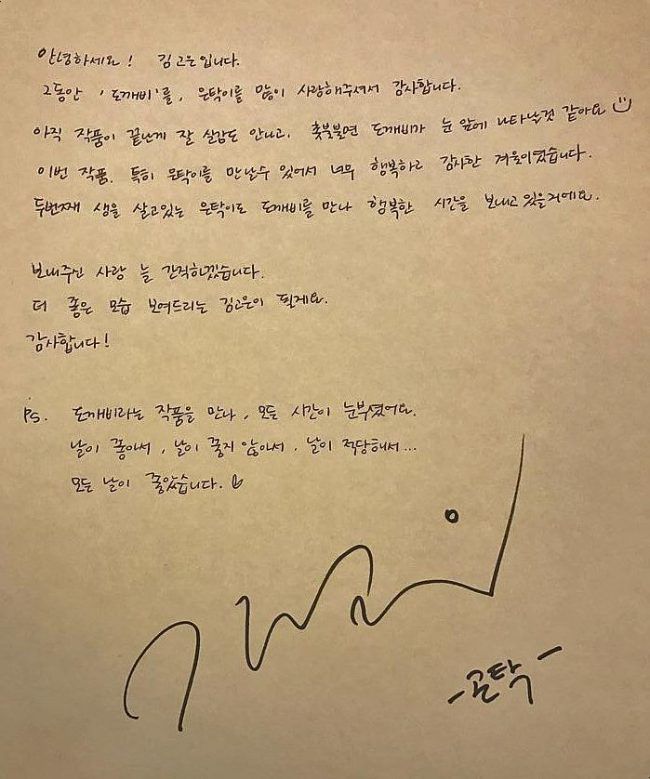 Source: Instiz Seoul News
Share This Post