[★VIDEO] Lee Kwang Soo and Nana are quite a pair for Ocean World's new CFs
Lee Kwang Soo and Nana have been named Ocean World's 2015 official models and spokespersons and revealed still cuts from the CF filming.
On June 22nd, Ocean World revealed a photo from the CF filming that features Lee Kwang Soo and Nana having a blast at the water park along with many other visitors.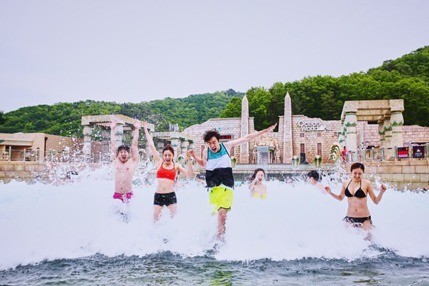 Despite having busy schedules traveling between China and Korea, Lee Kwang Soo and Nana were able to complete filming well. Because of their popularity overseas, Ocean World revealed that they had selected the two in hopes of appealing to the Chinese as well as the Korean market as the summer season begins.
In addition, After School's Nana was recently complimented by netizens for her flawless figure and it comes as no surprise that the model and singer will be showing off her summer body in the CF.
Ocean World often recruits famous female celebrities including power group SISTAR, however, this is the first time that a male and female pair have been selected to be the next representatives. The official CF will be released before the end of June and fans have expressed excitement over the news.
Meanwhile, Lee Kwang Soo's overseas popularity is no joke as fans recently tried to storm the stage to become closer to the star during an appearance at a fan event in China.
Source: Newsen
Share This Post