MAMAMOO tops real-time and daily online charts with comeback track, "Um Oh Ah Yeh"
Rookie girl group MAMAMOO is experiencing success on the charts with their latest comeback track, "Um Oh Ah Yeh."
The girls have once again stolen hearts in their hilarious concept for the music video with three out of the four members switching gender roles and becoming quite the convincing men.
As of June 22nd at 1:30am KST, MAMAMOO's "Um Oh Ah Yeh" is seen in #1 on daily charts for Mnet Music, Olleh Music, Soribada, Genie, and Monkey3, #5 on Bugs, and #2 on Naver Music. Additionally, they are seen ranking in #1st place on real-time charts for Soribada, Genie, Naver Music, and Monkey 3 as well, placing them in #2 on iChart's real-time and weekly chart score wise.
MAMAMOO made their debut in June 2014 with "Mr. Ambiguous" and they have risen to become one of the most talented and recognized rookie girl groups for their strong vocals.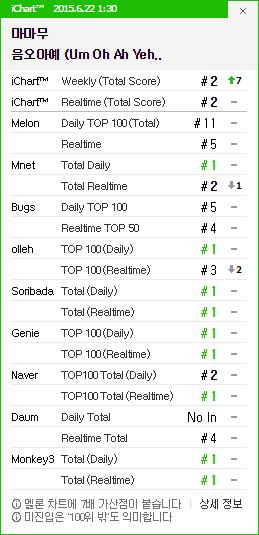 Share This Post