Music Bank Will Not Be Taking Away AOA's Physical Trophy From Them
Music Bank has emphasized exactly what will be happening in another announcement post after the show's PD admitted to their mistake on last week's broadcast earlier.

On May 27th, AOA was announced the winners of the week on Music Bank, beating out girl group TWICE. However, fans called foul against the win after analyzing the score awarded to AOA for their physical album sales as it did not match up mathematically with points awarded to other artists who sold more than or nearly as much as the girl group.
Three days later following the airing of the episode, the PD of Music Bank admitted to the mistake, apologizing to viewers and revealing that in fact, TWICE won 1st place while AOA was in 2nd place for that episode.
According to Music Bank's K-Chart, it takes into account digital downloads (65%), number of broadcast instances (20%), viewers preference (10%) and physical album sales (5%). To keep it unbiased, the information is collected by the KBS Broadcast Culture Research Facility who was cited to have made the mistake.
The PD in charge of the music show tells OSEN on May 30th that they will not be taking AOA's physical trophy. "We will not be handing AOA's trophy to TWICE. A new trophy will be produced for TWICE, the important thing is not the trophy. What matters is comforting the hearts of AOA and TWICE who were hurt in this matter."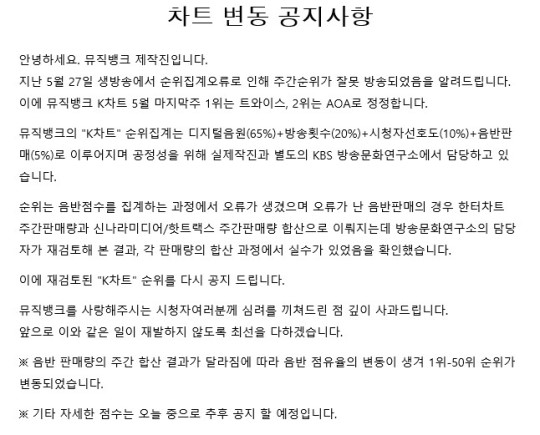 Source: OSEN
Share This Post