Park Shinhye chosen as first Korean model for Visa
Visa has chosen Park Shinhye to model for their new advertisement campaign, making her Visa's first Korean model ever!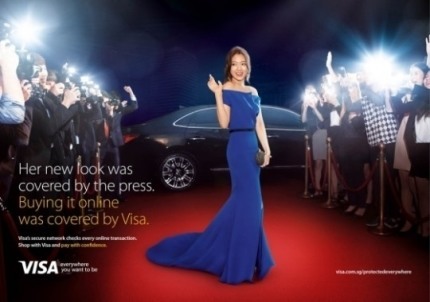 On November 10th, Park Shinhye's company, S.A.L.T, revealed that she will become the new face for Visa. Following predecessors like Pierce Brosnan, Catherine Zeta Jones, Richard Gere, Asian stars Jackie Chan, Zhang Ziyi, and athletes like soccer player Paolo Rossi, Park Shinhye is the first Korean model for Visa, showing the international popularity of the "Hallyu Wave." Spreading her international fame, Park Shinhye's advertisement is not only being marketed in Korea, but all over Asia as well.
Visa Korea's president, Iain Jamieson stated, "We are extremely happy to have started a new advertising campaign for the online shopping brand with Park Shinhye. Since the advertisement will be promoted not just in Korea, but in the essential Asian market, it will reflect the influence of the Hallyu wave, and thus we have high expectations for the results of being able to use a Korean model for our venture into the Asian market."
You will be able to see Park Shinhye's new commercial on television and on the Internet beginning November 12th.
Source: StarNews
Share This Post