Rumors of SBS "K-Pop Star 4" Nam So Hyun's controversial bullying past emerge
The new season of SBS K-Pop Star – Season 4 has entered its fourth week, and a controversy has emerged regarding one of its contestants, namely Nam So Hyun.
On December 15th, a post titled "The truth about Nam So Hyun of K-Pop Star 4" emerged on Nate Pann's Toktok forums. The poster of the thread claimed that she is Nam So Hyun's one year her junior, however, graduated from the same elementary and middle school, and revealed that the K-Pop Star singer had stolen money from her peers on several occasions.
The poster writes, "When I heard Nam So Hyun was going to K-Pop Star, I couldn't believe what I'd heard. Many people say that as long as she didn't hurt others, it doesn't matter what kind of past she had. Well, she did hurt others on countless occasions. I was one year junior to Nam So Hyun, and she used to take money from her juniors a lot. The amount would vary from $50 to $5, and the less the money the more frequent the 'collecting' of money would be. We would cut contact with her during vacation and ignore her when she calls. When school started she would get us all together, and take us to a playground behind school and lecture us for two hours, smoking and laughing with her friends. She drank and smoked. She got caught for it at Sanbon Middle School ㅋㅋ. She even forced us to buy clothes from her at times."
Following the post, the original poster uploaded graduation photos of herself and Nam So Hyun to back up her claim.
This is not the first time reports of iljin stories have popped up about survival shows' contestants, as Superstar K6's Song Yoobin recently received criticism for her iljin past.
To the news, netizens have left comments such as, "Why does this keep happening," "Nam So Hyun should resign, just like Song Yoo Bin," and "I'm shocked."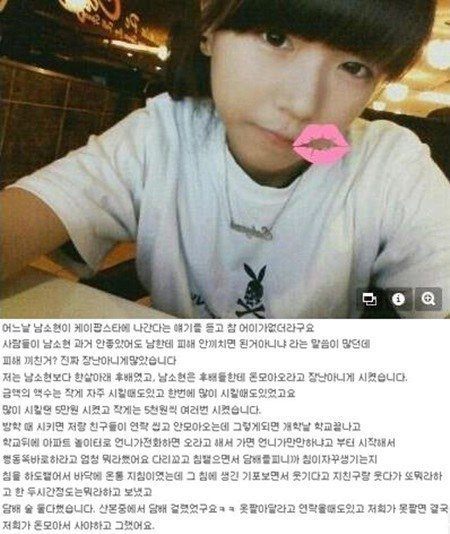 Source: Sports Seoul and Daily Korea
Share This Post