Show "Knowing Brothers" Receives Disciplinary Action For Sexually Objectifying Women
The popular comedy program JTBC's "Knowing Brothers" has received severe disciplinary actions for their rude actions.
On December 22nd, the show received warning from the Broadcast Censorship Committee under the basis the show "Knowing Brothers" has objectified female guests in a sexual manner on multiple occasions.
The committee has decided to follow their warning with disciplinary actions for the members' repeated use of improper language towards each other as well as guests has been noted as another factor.
A member of the committee, Ha Nam Shin, stated in detail why the show has received such action in detail.
"The program is a variety program which is comedic in nature but it also enjoys a level of popularity that rivals non-cable programs. This means that the show also must maintain a level of class that reflects its popularity and we decided to issue a warning on this grounds.
Another member of committee that agreed on the disciplinary actions stated,
"On the 7th I only considered their use of improper language and actions and stated we should issue a warning, but later realized that they had objectified women in a sexual manner."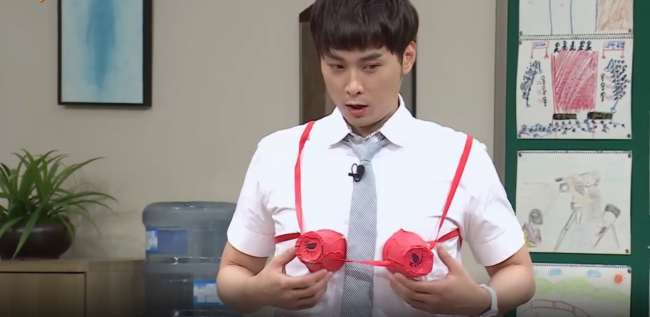 The scenes in question were where Min Kyung Hoon gifted Jun So Min a bra made out of paper cups and other episodes where terms such as "You're very feminine" and "Are you gay?" were used. Other crude statements were also mentioned as being problematic and over 4 episodes where these terms and actions were frequently witnessed, 37 complaints were filed by viewers.
Source: Media Today
Share This Post