SISTAR Soyu reveals her harsh diet regimen…and even advises fans against it
SISTAR's Soyu reveals how she lost 8kg with a specific diet method.
Recently Sistar's Soyu along with actress Lee Honey and actress Jung Soo Min have been claimed as the MC for the Onstyle show Get it Beauty.
As part of the show, Soyu revealed that she had once lost 8kg by 'crazily exercising and crazily not eating'. Her diet method was to exercise all day, some of her exercises were yoga, weight training, cardio, choreography rehearsals, etc. In addition, she also had one meal a day that only consisted of 4 quail eggs without the yolk and a cup of milk. But Soyu warned the audience these types of diets will simply ruin our bodies.
However, netizens have shared their thoughts toward Soyu's diet method.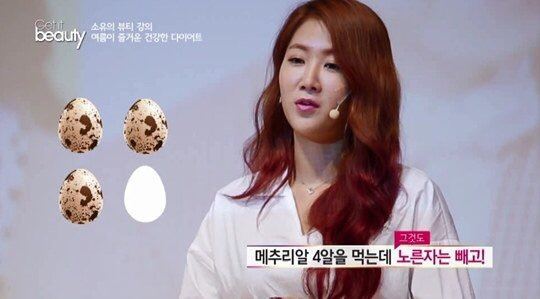 Meanwhile, Sistar recently released their MV for their new title song '"Shake It."
1. [+579, -39] Eating less is best! Just cutting down on carbs, flour and instant food works better than exercising until you get serious health problems.
2. [+515, -11] Weight loss method? I know it's just eat less and move more but it doesn't work ㅠㅠ
3. [+383, -14] I get how to crazily eat but how do you crazily not eat? ㅋㅋㅋ
Source: TV Daily
Share This Post