Taeyeon reveals what she does to connect with international fans
Taeyeon shared her thoughts on her age and the various nicknames that fans have given her throughout her career.
On the March 11 episode of Entertainment Weekly, Taeyeon appeared as a guest on the segment "Cook & Talk," where she participated in an interview while preparing strawberry and cream sandwiches for her fans.
During the interview, Taeyeon discussed a few of her nicknames. She first talked about the nickname "Monthly Taeyeon," which signified her packed schedule every month. When asked why she promoted so consistently, she gave an honest response.
"I don't act or do musicals like the other members, so if I'm not releasing any albums, I have nothing to do. Singing is my main thing."

— Taeyeon (Girls' Generation)
She shared that she released her first OST track "If" when she was 20 years old. Upon hearing her saying that she's now 29 years old, the reporter expressed his shock and tried to confirm with Taeyeon that she would be turning thirty next year.
Taeyeon responded to the question in a calm and collected manner:
"We can't help but age."

— Taeyeon (Girls' Generation)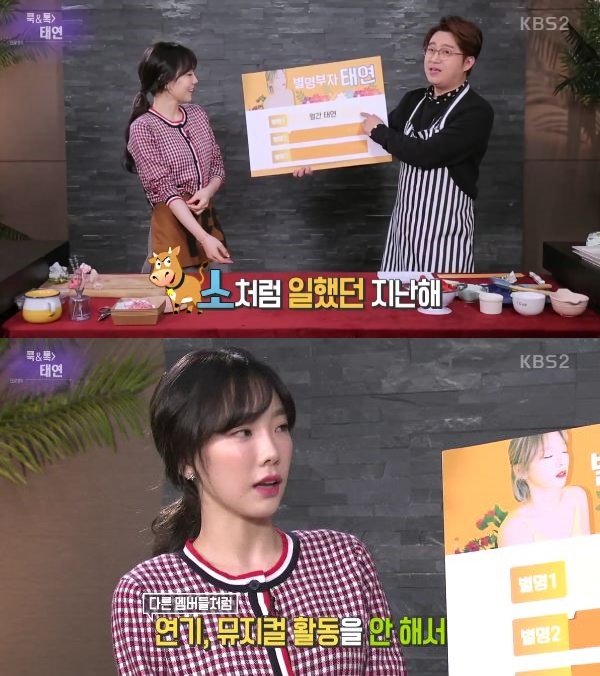 The second nickname was "Queen of SNS," which was given to Taeyeon for reaching 9 million followers on Instagram. She explained her reason for being so active on social media.
"Everything's very global these days. Since it's difficult for me to go and meet my international fans, I figured I should take advantage of social media. SNS is not a waste of time."

— Taeyeon (Girls' Generation)
She even uses English occasionally to reach out to international fans. Check out some of Taeyeon's Instagram posts below:
There's a reason why Taeyeon is receiving so much love from around the world!
Source: Star Seoul TV
Share This Post