TenAsia reveals the Top 5 photogenic idols of 2014
TenAsia released their Top 5 most photogenic faces of the year with GOT7's Jr. at the top of the list! Following Jr. on the list is BTS' Jimin, VIXX's Hongbin, B.A.P.'s Youngjae, and B1A4's Jinyoung.
[A fresh first love, GOT7's Jr.]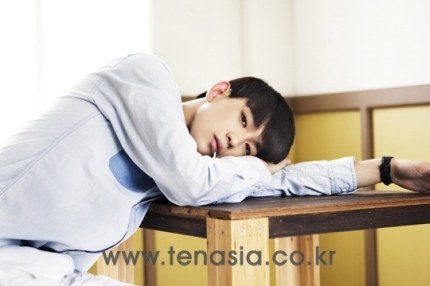 Jr.'s glance is noticeably captivating and attractive since "he has the face of a popular schoolboy that every girl has a crush on." How can you resist eye contact with such a handsome boy? Gu Hye Jong states that "I would definitely recommend GOT7's Jr. From start to finish, the photoshoot with Jr. made one's heart flutter." Lee Jong Hwa writes "All-kill with one candy" emphasizing how Jr. utilized a simple strawberry milk candy to bring out his natural charms. He has a sensitive aura that is fresh yet reminiscent of first love. Jr. is able to make an impression while looking very natural and true to himself without excessive makeup.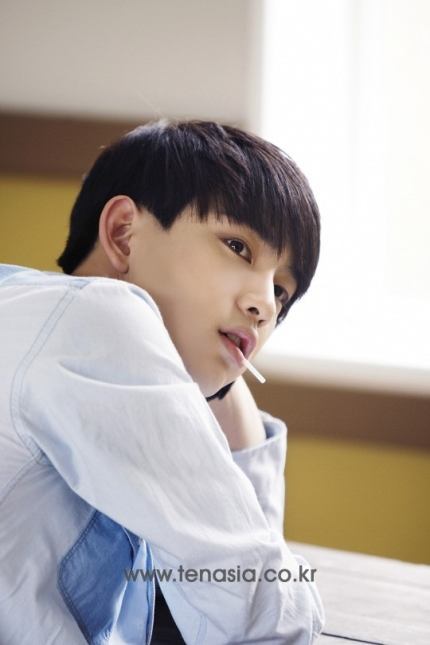 [Natural, Free, BTS' Jimin]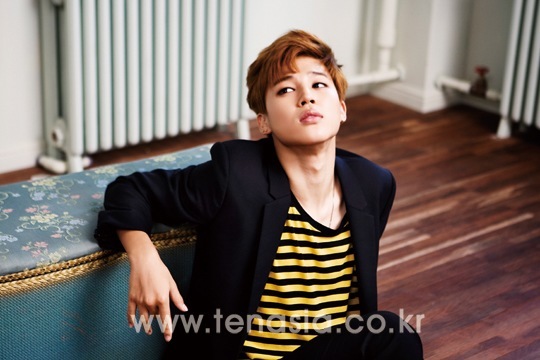 BTS's Jimin poses naturally in a way that emphasizes his different sides without making it look like it's forced. Gu Hye Jong says, "His good body structure, pose, and gaze are very natural and what inspired the photo. BTS' Jimin takes pictures with poses that make others feel comfortable. So while taking pictures, his eyes look with intent and he takes on a natural gesture, as if he were a superstar in the past life." Lee Jong Hwa stated "Although Jimin was shy, he did not show it in front of the camera. He was very natural and effortless, which is difficult to execute" adding that Jimin certainly "has something special."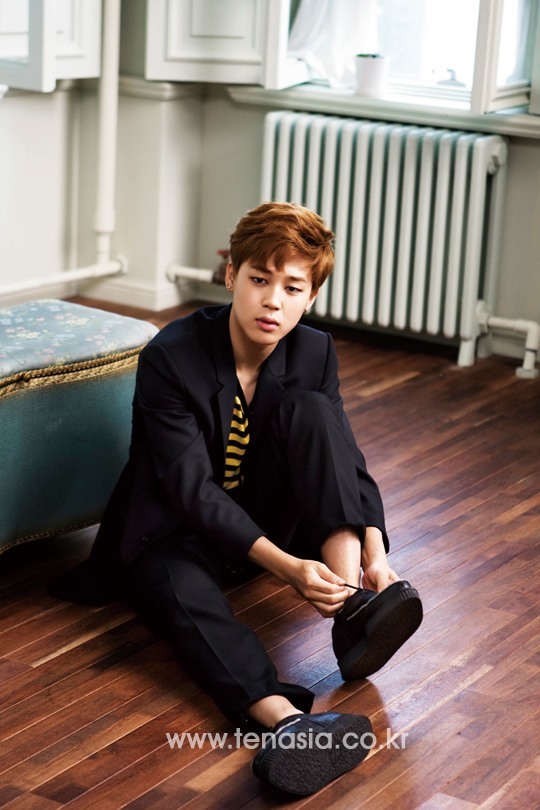 [Handsome Boyfriend of your dreams, Hongbin]
"Tall, handsome, and smiling shyly at you," his boyfriend charms blew even the photographer away. This boyfriend charm is not easily conveyed and few people will take pictures as Hongbin did. Gu Hye Jong comments "He pulls off the shy and sometimes even embarrassed look easily." Although he is posing as a sweet boyfriend, his manliness shines through as well and inspires the photographer with his expressions, "like a muse for an artist" says Lee Jong Hwa.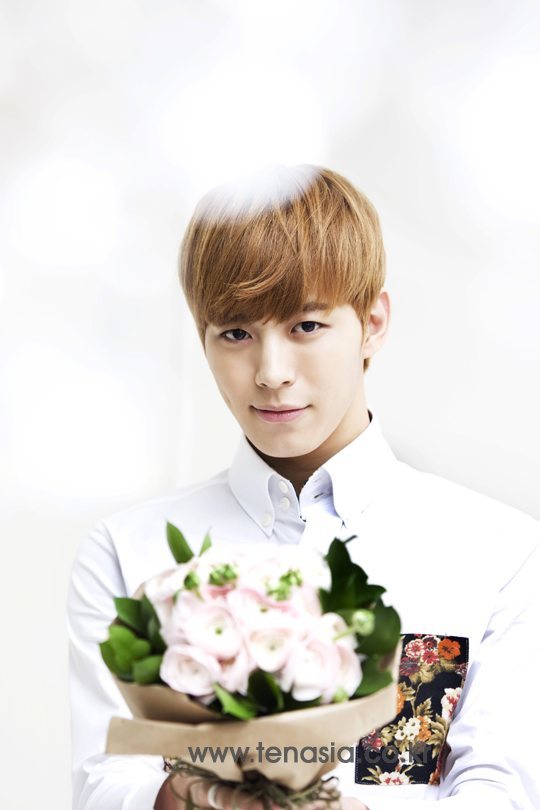 [A Beautiful Smile, B.A.P.'s Youngjae]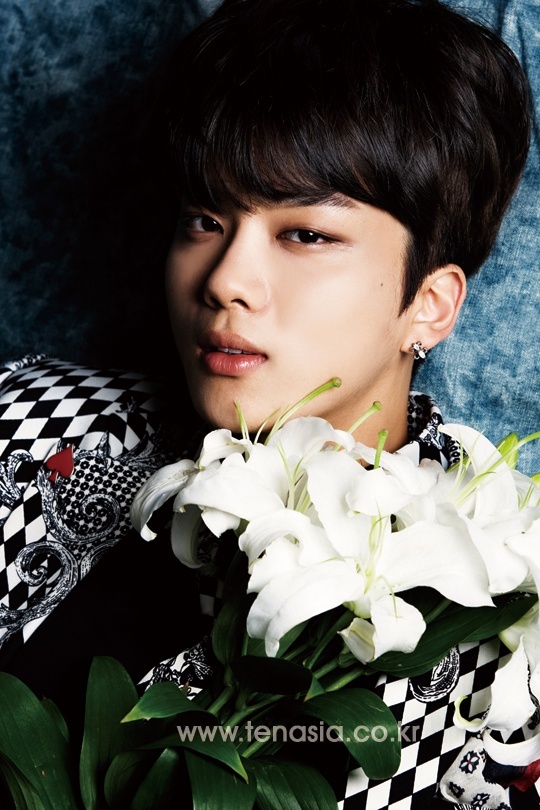 Youngjae's profile is gorgeous whether he is posing naturally or according to a photographer's suggestion, a quality that makes the filming atmosphere much easier and brighter. Gu Hye Jong even writes that "He leaves a clear impression with his close-ups. I hope to see him around for a long time because Youngjae has a face that can hold many expressions." Lee Jong Hwa writes "Youngjae's beauty shows even in the pictures. His eyes always convey a feeling of looking at someone beyond the camera. I had a chance to shoot with him last year as well and though our sessions were short, he never missed an opportunity during our limited time." Lee Jong Hwa went on to say that "This also goes to show that one can convey good feelings without being stiff. Not one of his shots was thrown away."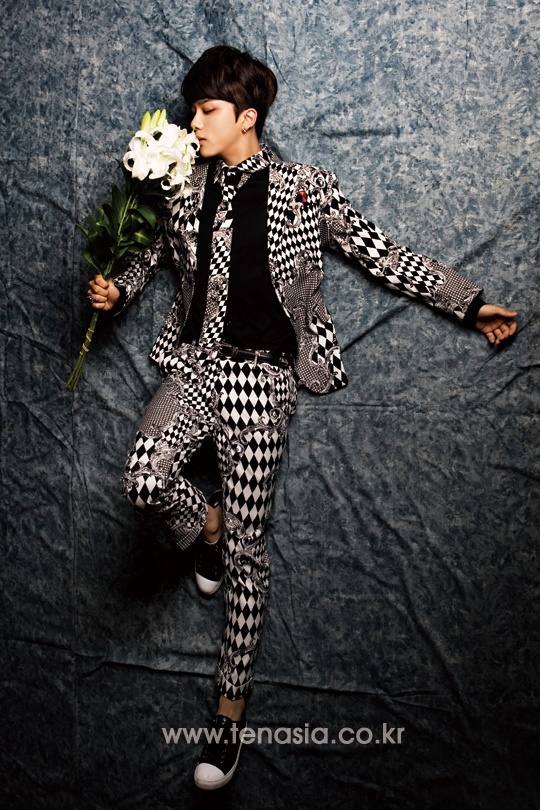 [B1A4's Jinyoung]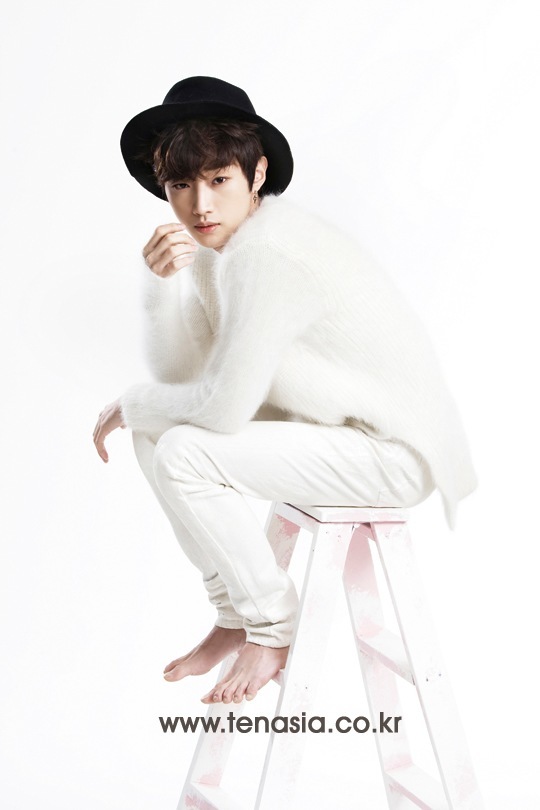 Jinyoung's face is rare because he has naturally clean lines and perfect symmetry and at first glance, "is more beautiful than a woman" says Gu Hye Jong. He can fill up a whole page with his charismatic expressions alone without feeling like the photo is lacking. She also compliments him on his ability to give direction to the photoshoot while still keeping the intended atmosphere intact. Lee Jung Hwa adds that Jinyoung often asked, "So should I…?" demonstrating his talent in creating his own ideas which often helps the photographer capture better expressions. His handsome features and figure need no further explanation. The photographer also points out that in these photos, wearing all white easily points out imperfections but with Jinyoung, the white complimented his facial features which produced a good picture. In addition, during this shoot, many of the members began to tire but Jinyoung was bright and continued to have energy with no signs of wearing out. "Jinyoug's solo photos are truly good."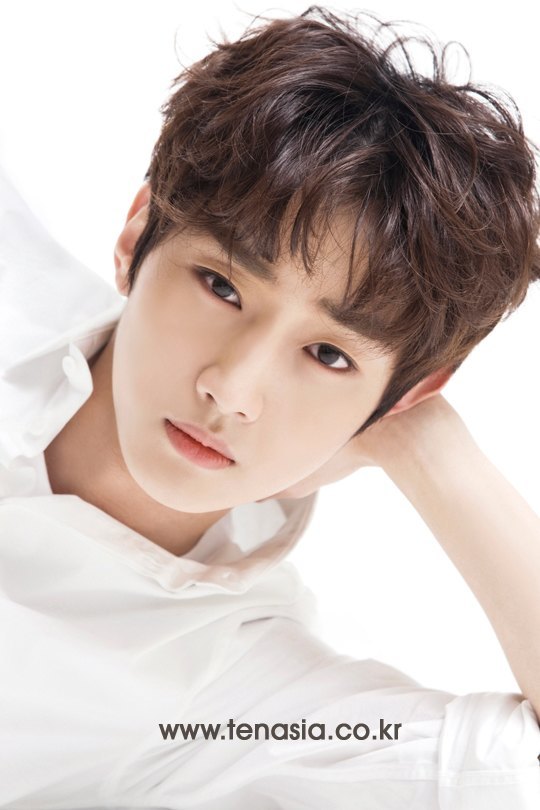 Translated from TenAsia: Jr., Jimin, Hongbin, Youngjae, Jinyoung
Share This Post