Yoo Jae Suk spotted visiting SM Entertainment for possible collaboration with EXO?
It seems as though Yoo Jae Suk and MBC's Infinite Challenge team might end up delivering an exciting collaboration stage with EXO like they had mentioned in the beginning of the year!On August 11th, several netizens began posting accounts and photos of their own sightings of one of South Korea's most popular celebrities, Yoo Jae Suk, entering the SM Entertainment headquarters located in Seoul.
These recent sightings sparked the interest of many EXO fans as well as other netizens, prompting them to question if it was for the "promise" made from an Infinite Challenge episode earlier this year. It was the episode where each cast member had to write a letter to fellow member with wishes that they wanted to come true.  During that episode, member Hwang Kwanghee wrote a letter stating that he wishes to see Yoo Jae Suk collaborating with EXO since he loves to sing and dance.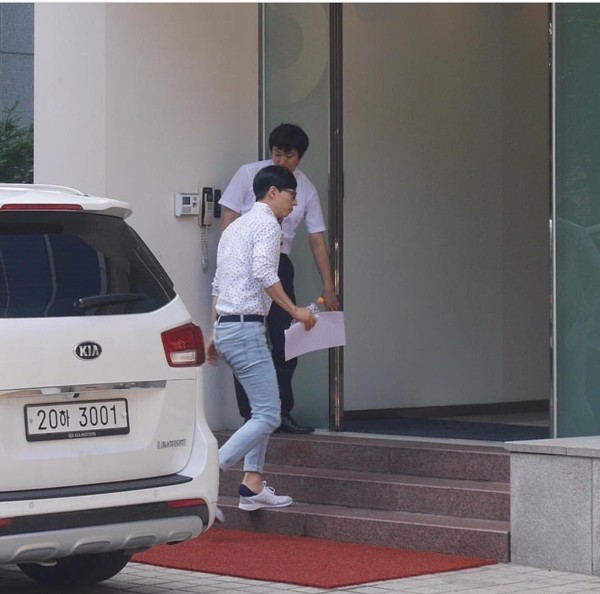 One media outlet even claimed, "Prior to the sighting of Yoo Jae Suk visiting the SM Entertainment building, he and EXO got together somewhere in Gangnam on the 10th to have some practice time to themselves. It's been heard that they all had an enjoyable time and finished off their practice on great terms."
Kim Tae Ho, the lead producer of Infinite Challenge, stated in response to these sightings and speculations, "We are planning to have Yoo Jae Suk join EXO as a 'special member' while delivering a special stage of singing and dancing with a brand new song. The song itself is incredible, as well as an awesome choreography, so we predict that it will be the perfect gift to deliver to viewers and fans. We, however, have not yet decided on the type and style of which the performance will be portrayed."
Though a good number of viewers expected to see this collaboration happen sooner, they were only greeted with disappointment when the show failed to mention anything about it in future episodes. Some viewers even expressed how it was unfair that the other cast members had to "carry out" with what was written to them such as Haha's letter to Jung Jun Ha which stated he wanted to see him compete in the popular Mnet program Show Me The Money as well as seeing him ride the world's scariest roller coaster while successfully eating noodles.
Last June, however, the EXO members revealed during the showcase for their 3rd album, EX'ACT, that they were excited to be planning and working with Yoo Jae Suk for a special collaboration stage, "We are currently planning a brand new collaborative track, but since senior Yoo Jae Suk has been so busy, we haven't had the time to practice yet. We're extremely excited and hope to carry on with this collaboration as soon as possible."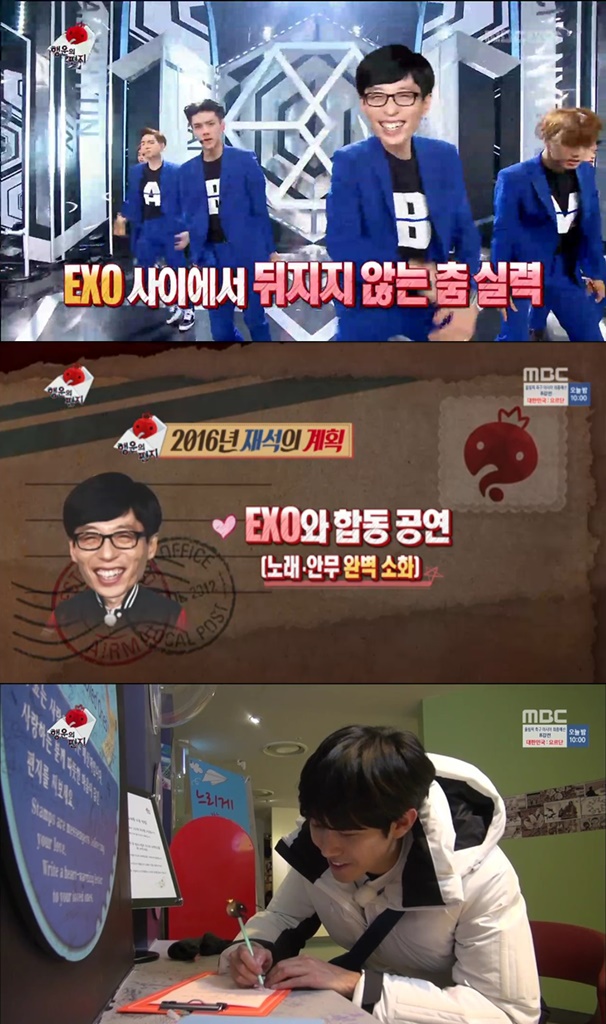 Source: Dispatch, Newstown, ET News
Share This Post