ICYMI: BTS became first Korean artist to get 10M followers on Twitter
Just five years into Twitterdom, BTS has reached the milestone of 10 million followers!
And to make it even better, BTS is the first K-pop group to reach the 10 million mark!
https://gfycat.com/gifs/detail/BlankEmotionalHousefly
BTS beat out G-Dragon, who formerly held the most Twitter followers among K-Pop idols.
4×2=🎱✨@psy_oppa pic.twitter.com/gPDoB55mgY

— G-DRAGON (@IBGDRGN) May 10, 2017
Twitter Korea celebrated the feat by creating a special emoji in the shape of BTS's fans' ARMY sign, which perfectly fit the hashtag, "#LoveBTS10M".
BTS 천만 팔로워를 축하하는 #LoveBTS10M 은 24시간 동안 350만 번 트윗됐습니다. @BTS_twt 멤버들이 올린 감사 트윗은 900만 건 이상의 트윗 반응을 기록했습니다. 3.5M Tweets for the #LoveBTS10M hashtag in the past 24 hours. Over 9M total engagement for the BTS thank-you Tweets yesterday. pic.twitter.com/ZpWmy9vHNn

— 트위터 대한민국 (@TwitterKorea) November 14, 2017
Twitter Korea even visited Big Hit Entertainment to award them with a memorial tablet to commemorate it.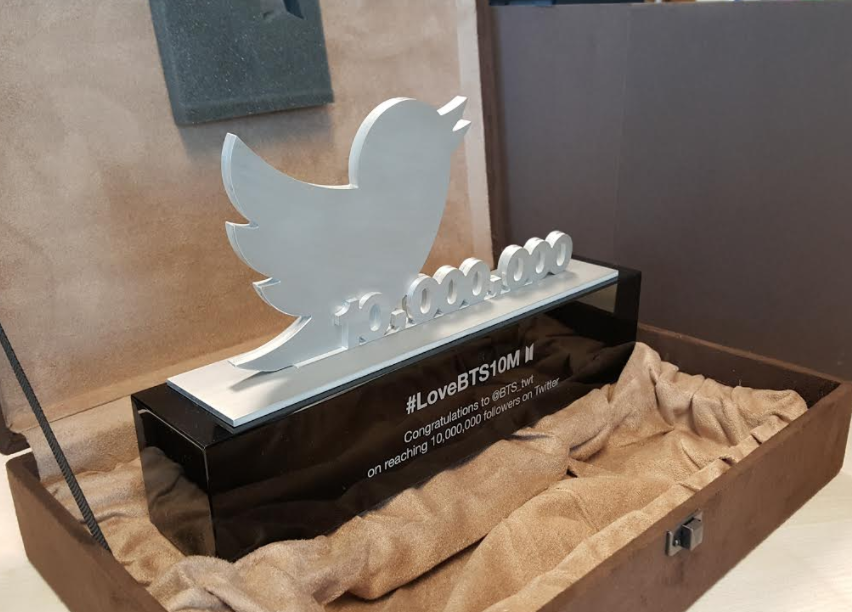 Individual members of BTS tweeted gifs of their reactions as a thank you to the fans who made it all possible.
🐯🐭🐰🐹🐨🐥🦄💜🔎✨ #천만댄스파티 #덩실잼덩실잼 #LoveBTS10M pic.twitter.com/Q2iqg8CwMD

— 방탄소년단 (@BTS_twt) November 13, 2017
Jin did his signature kissing face.
https://gfycat.com/gifs/detail/LividPlasticAmericancurl
J-Hope did a cute heart dance.
https://gfycat.com/gifs/detail/BigBelovedAmericanratsnake
RM gave a heartwarming wink.
Suga signaled "I love you".
Jimin made a surprise appearance.
V killed with his aegyo.
And Jungkook was just his signature self!
Fans are amazed how BTS is heralding in a new kind of influence for K-Pop all over the world!
Share This Post