Irene Confesses About The Time Park Bo Gum Made Her Heart Race
Park Bo Gum and Red Velvet's Irene are a favourite amongst K-Pop fans. So there's no wonder that when Irene confessed Park Bo Gum made her heart race.. fans went crazy!
The two were a favourite amongst KBS's Music Bank viewers, as they hosted the show for a total of 13 months, starting in May 2015. Fans were extremely upset when the two announced they wouldn't be hosting together, thinking this was the end of seeing the two of them and their cute interactions.
Check out some of the adorable interactions the two had below.. and the best part at the end. The moment when Irene confesses that Park Bo Gum makes her heart flutter!
Seriously. How can this couple be so freaking adorable? Wish they were around this Christmas to do a performance like this again. Wow!
The cutest moments are when they're interacting together. Park Bo Gum revealed that the best part about Irene is that she has a "caring heart". Aww!
Tweets like this don't help either, when prominent SM Entertainment "insider", oniontaker, posted this adorable picture of the two together:
https://t.co/NmvmlYtgqB
아이린 x 박보검 뮤뱅 MC 1주년 기념회식 pic.twitter.com/iEjmxyNDn9

— John Yoo (@oniontaker) May 7, 2016
Now, for the cutest part. When Irene was being interviewed, she was asked if Park Bo Gum ever made her heart jump. Her answer? The best one ever "There was a time he made my heart flutter but for a different reason. It was when he said my real name (Bae Joo Hyun). I was sincerely surprised."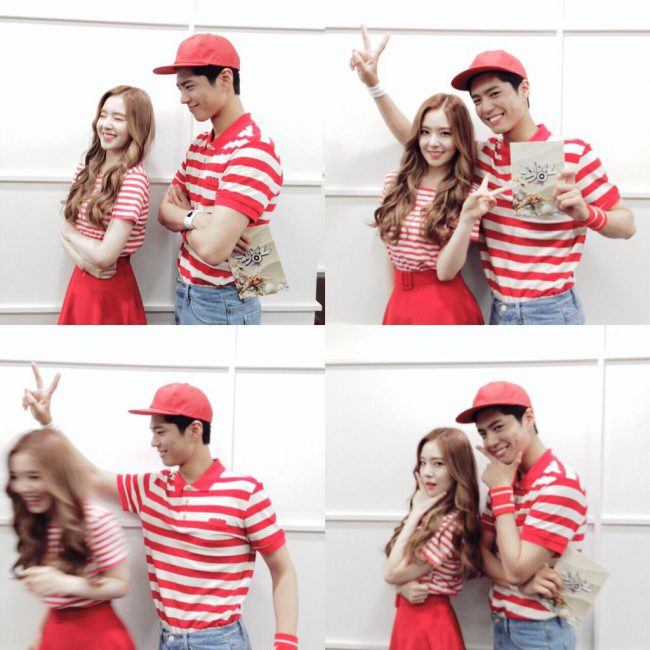 Check out the video below for their cutest interactions:
Share This Post