Jung Chaeyeon Uses Soju To Prevent Facial Swelling… Really
Soju, not just a drink, but a beauty product as well!
DIA's Chaeyeon recently revealed on KBS 1 vs 100 what her secret to prevent herself from bloating is, and it's something nearly every Korean adult has tried before.
MC Jo Chung Hyeon mentioned Shin Dong Yup thought Chaeyeon was a really good drinker, even though she is known for her angel-like visuals.
Chaeyeon responded, saying she isn't that good at drinking and can only drink about one bottle's worth.
"I can drink about one bottle? I used to only drink soju but nowadays I've been mixing beer with soju and have enjoyed drinking beer, too." — Chaeyeon
DIA Eunchae was also on the show and revealed what Chaeyeon's real reason for drinking soju is.
"Do you know why she really drinks soju? It's because it reduces bloating for her. She drinks a half a bottle of soju before filming an advertisement the next day." — Eunchae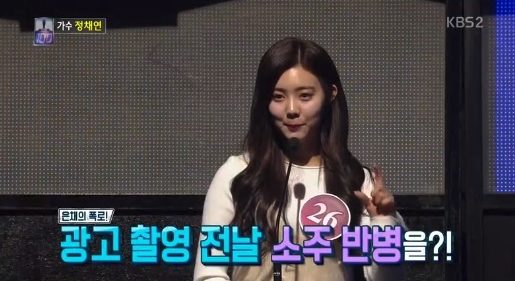 Chaeyeon acknowledged that was the real reason for her drinking soju and that it helps her with her swelling.
"It's true. After drinking a little bit of soju, my swelling goes down dramatically. That's why I have a lot of soju in stock at my place."  — Chaeyeon
Share This Post