Korean K-Pop Fans Reveal The Worst Private Messages They Sent To Idols
One Korean fan uploaded a cringeworthy DM she sent to Sulli and asked others to share their weird messages too!
She had sent Sulli a very long DM that was full of words of encouragement and support, but she didn't remember why.
"Sulli unni ❤️
I'm always supporting you ?
I like you the most in the world ?

No matter what anyone else says, your existence in itself is overwhelmingly attractive!! I watched you ever since the beginning of your debut, and you're so pretty and I like you so much I think I'm going crazyㅜ?? I hope you only walk a flowery path and I'll support you.

I like you so much that I go into your Instagram several times a dayㅜ I also search your name on Naver and look at your photos, my KakaoTalk profile photo is a picture of you, and I always brag about you to my friends!??? Don't get hurt by the words of others and always walk a flowery path, unni ㅜㅠㅜㅜㅜㅜㅠ I'm always supporting you and I love you?? ????"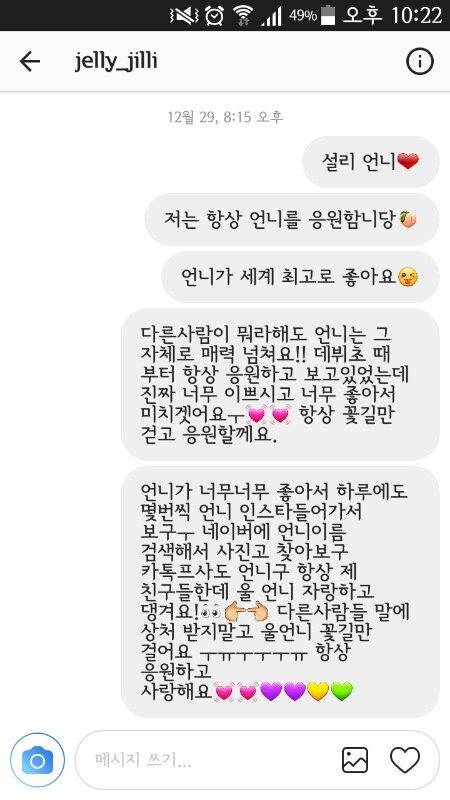 In response, several others shared their own stories of cringey DM's, like this one fan who DMed Mino her first fried egg…
"My bias was Song Minho [Mino] so I sent Song Minho a photo of the first time I fried an egg…;;; Such a dark history. Why did I do that? I even squeezed ketchup in the shape of a 'W' on top of the fried egg… F**k and I sucked so badly at that egg.. Oh and I also drew Song Minho with a lot of effort and sent it to him ㅋㅋㅋㅋㅋ I can't believe I actually waited for a reply…"

…and this fan who DMed EXO's Baekhyun after finding out that she hadn't been picked to attend their fan signing event…
"I really want to go to a fan signing event at least once before I dieㅠㅠㅠㅠㅠㅠㅠㅠㅠㅠㅠ It might be faster for me to get hired by SMㅋㅋㅋㅋㅋ Anyway tonight I miss you more than usual ?"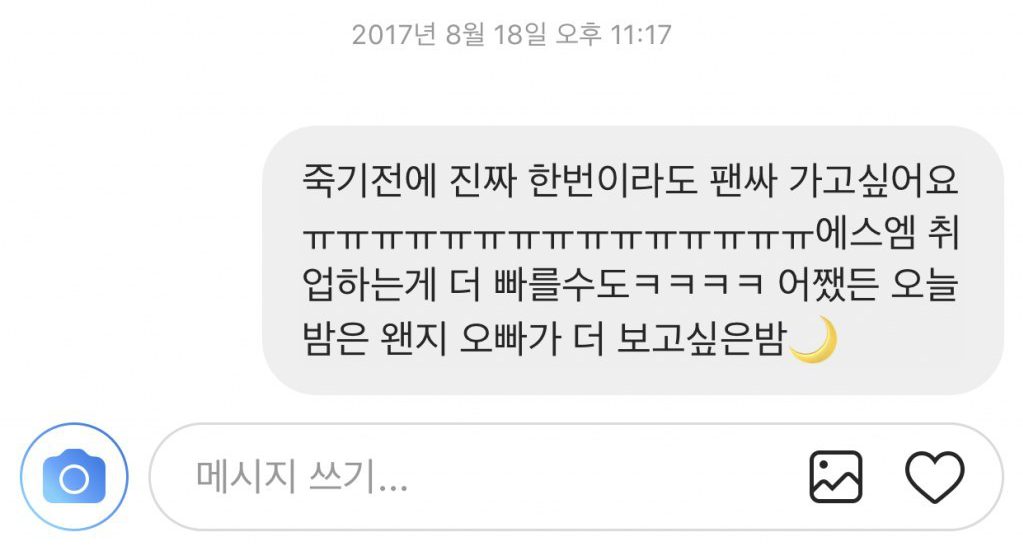 …as well as this other person who sent Sulli an equally uplifting yet adorably cringey DM as the original poster.
"Jinri [Sulli] unni don't listen to what other people say, whatever they say, your existence is special and you're a good personㅠㅠㅠㅠ Unni please don't get hurtㅜㅜㅠㅠ❤️❤️"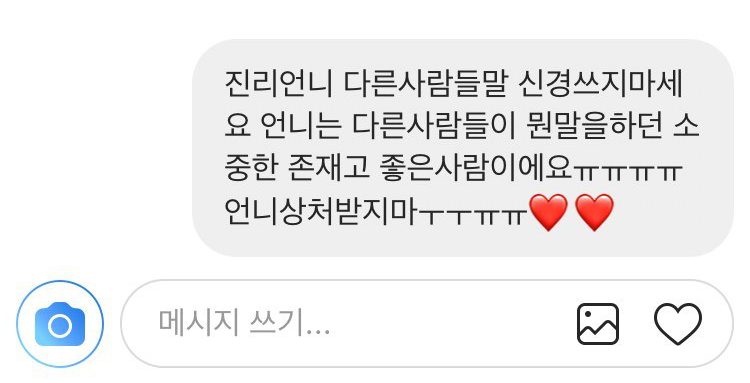 Another person sent several cringey DMs to Kim Samuel, all of which never received a reply.
"Muel-ah I'm a NU'EST fan but I think I'm going to become your fan too. I'm streaming your songs endlessly. Sixteen❤️  I really like your recent song Sixteen❤️  If you continue working like this, I'm sure you'll all get it back one day. On top of that, you're young so let's wait a little ❤️  Don't forget your roots and smile until the end ❤️??  Samuel fighting ❤️  Don't forget what I said.

Muel I'm not your fan but I really like your song. I'll download it for sure. I'm streaming your song quite frequently ❤️

Samuel
It's not a dream ㅎㅎ I'm watching you wherever you are on stage ???"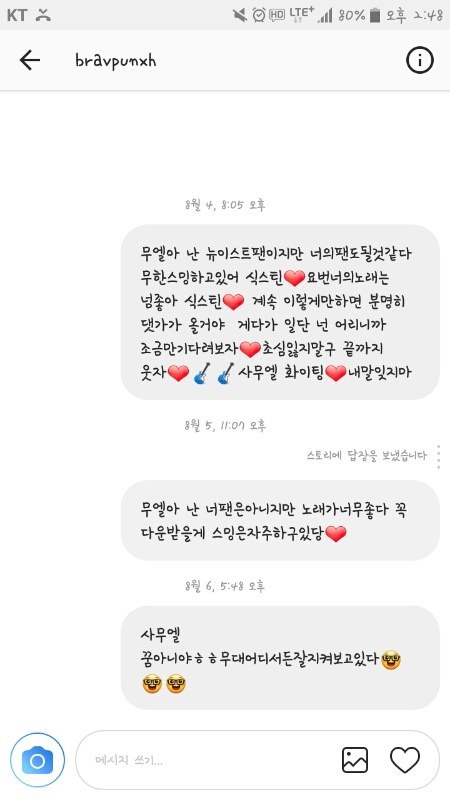 This fan sent her DM to former Produce 101 contestant Kim Dong Han a collection of outfits and asked him to choose one so she could buy it for him. When he didn't reply, she sent him, "JUST CHOOSE ONE!!!!!!!!!!!"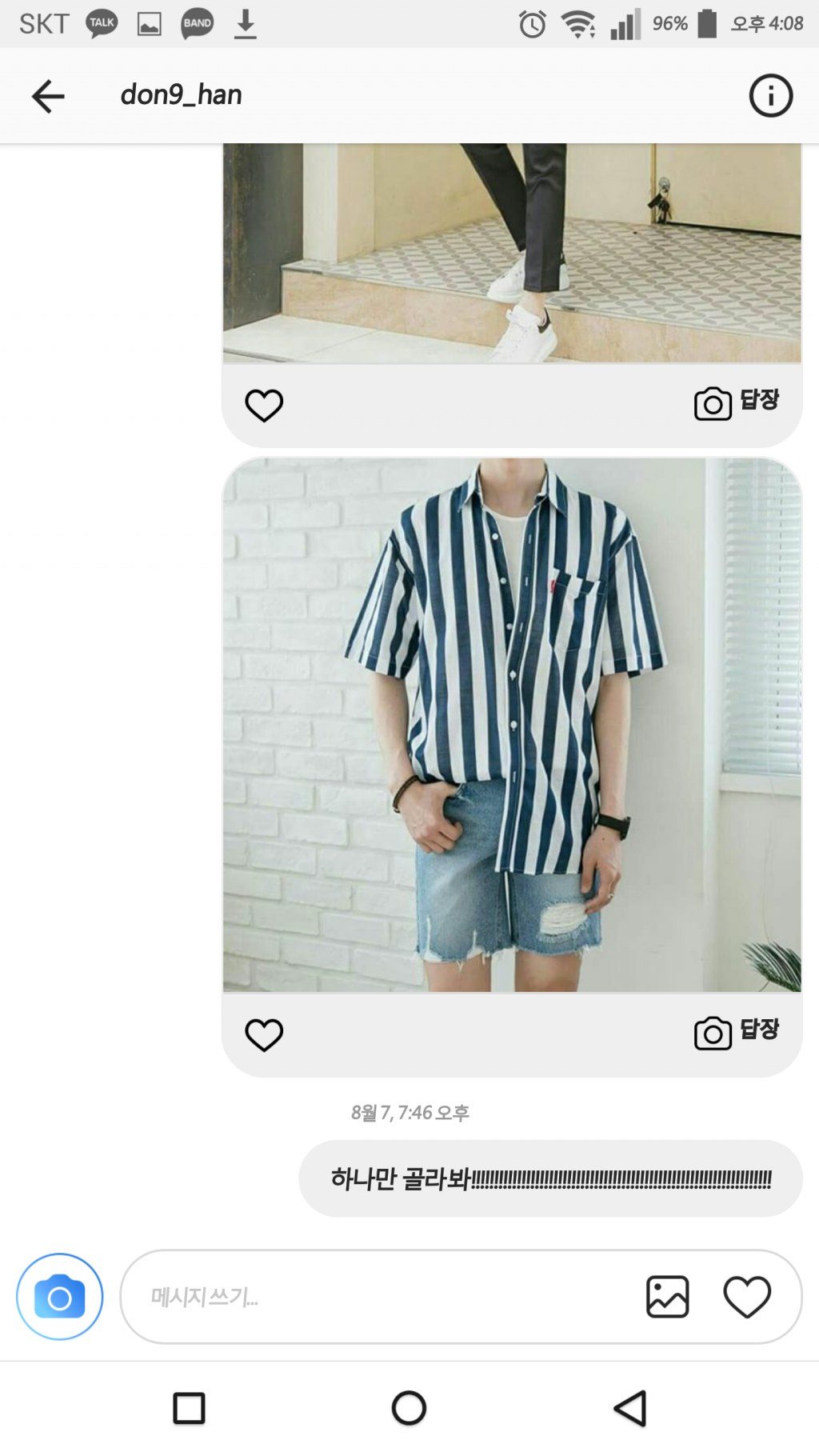 Have you ever sent any embarrassing or cringey DM's to your bias?
Source: Pann
Share This Post