Media experts reveal the best and worse idol group names
A group of experts have come together to determine the best and worse idol group names that can currently be found in K-Pop. 
There are indeed some odd names in K-Pop with agencies attempting to create a unique look for their groups for their debut. But odd and even unique can be translated  either good or bad by the public.
Check out the list below, do you agree or disagree?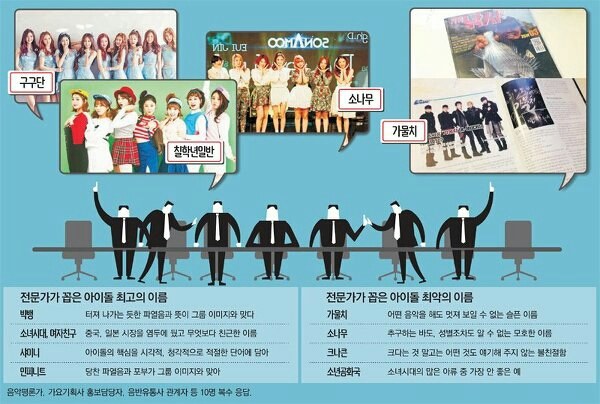 Best Idol Name:
BIGBANG: The meaning that they are "explosive" matches the image of the group.
Girls' Generation, G-Friend: The names are very friendly and familiar for the Japanese and Chinese market.
SHINee: The proper word in describing the group visually and acoustically.
INFINITE: Matches the spirit, ambition and image of the group.
Worse Idol Name:
K-MUCH: No matter what type of music they release, their name doesn't seem cool.
Sonamoo: Unable to tell what their gender is because their name is too ambiguous.
KNK: Other than they're tall, it doesn't tell us anything.
Boys' Republic: The worse example of trying to imitate [the name] Girls' Generation.
Source: Pann
Share This Post