Mnet Translates Lyrics Wrong In English To Say "Rape" By Accident
Mnet came under heavy criticism for incorrectly translating lyrics in English on a recent music show.
On Friday's broadcast of High School Rapper, there was a mistake on the lyric display, in which "rapping" was misspelled "raping".
The incident occurred during Lee Jee Eun's performance, where the lyrics read "…dancing and I'm raping and raping uh".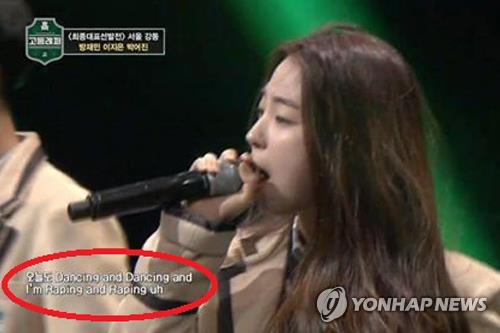 As a result, netizens took this opportunity to voice their disappointment in CJ E&M Entertainment.
"I couldn't believe my eyes."

– University Student, Lim So Jung
Many were shocked when they saw the lyrics come up on screen, and Mnet's production team has released a statement apologizing for the error.
"Due to the busy production schedule, there were parts that were overlooked prior to airing. It was a clear mistake and we apologize."

– Mnet's Production Team
During Mnet's live broadcast of the Asian Music Awards in December, there was a similar occurrence of typos on-screen, showing that this was not the first time something like this happened.
You can watch the entire performance (and the moment at 3:00) below.
Source: Yonghap News
Share This Post