[★TRENDING] Running Man Shows Off The Strength Of Their 7 Year Friendship
On the latest episode of Running Man, the members showed off the strength of their bond created over the 7 years by reading Haha's mind.
Near the end of the episode, the Running Man members were given a mission where they had to guess Haha's answers to given questions.
The first question that was  asked was "If you could choose change your appearance with one male celebrity who would it be?"
Haha continued to write his response on a sketchbook and the members guessed "GD" which was correct.
Having gained confidence the members went on to attempt two more questions. "Which body part is Haha most confident in?" and "At which moment did Haha truly feel that he had grown up?"
The members stated, "His left arm," and "When his son Dream was born." which were both correct.
The members themselves were amazed how well they knew Haha and claimed that they must have developed a telepathy after spending 7 years together.
Although the mission began as a game, the members began tearing up after realising just how strong their bond was.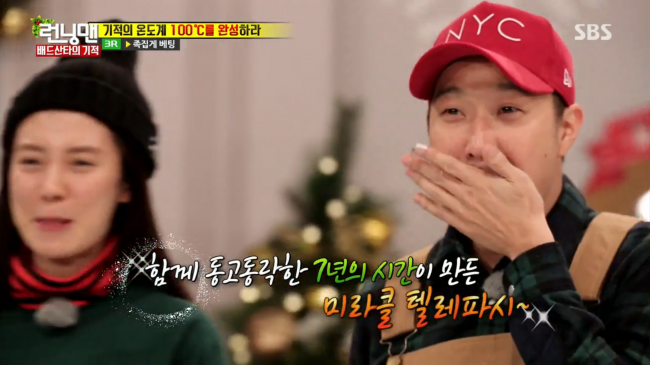 Watch the scene from the next episode (Running Man Episode 463) below:
(Video May Take A Few Minutes To Load. Please Be Patient!)
Source: Sports Chosun
Share This Post