SM Entertainment Explains Why Jaemin Is Not Promoting With NCT DREAM
SM Entertainment has released a statement on why Jaemin will not be promoting with NCT Dream for their upcoming comeback promotions for "THE FIRST" starting February 9.
While Jaemin is a member of the NCT sub-unit, fans were concerned when neither of the first teasers for the comeback included him.
😱 Coming Soon, Feb 9: NCT DREAM's 1st single album titled #MyFirstAndLast#NCT_DREAM @NCTsmtown pic.twitter.com/tZUmhzN3rs

— Koreaboo (@Koreaboo) February 1, 2017
In response, his agency SM Entertainment released the following statement:
Hello.

This is SM Entertainment.

We would like to sincerely thank all the fans who have shown interest in today's teaser images for NCT DREAM's first single album "THE FIRST", and we would like to explain about Jaemin's situation to all of his fans who are waiting for him.

Jaemin participated in "Chewing Gum" last year and has been getting treatment for his herniated disk in his back ever since he was a trainee. Unfortunately his health has declined and as an artist, his health is the number one priority. We have decided he will not participate in these promotions in order to focus on rest and recovery.

We would like to express our gratitude to all the fans who have been patient and giving encouragement and support for Jaemin's quick recovery.

We would once again like to thank all of the fans of NCT DREAM, and NCT DREAM will work hard to repay all of the fans who continue to support them.

Thank you.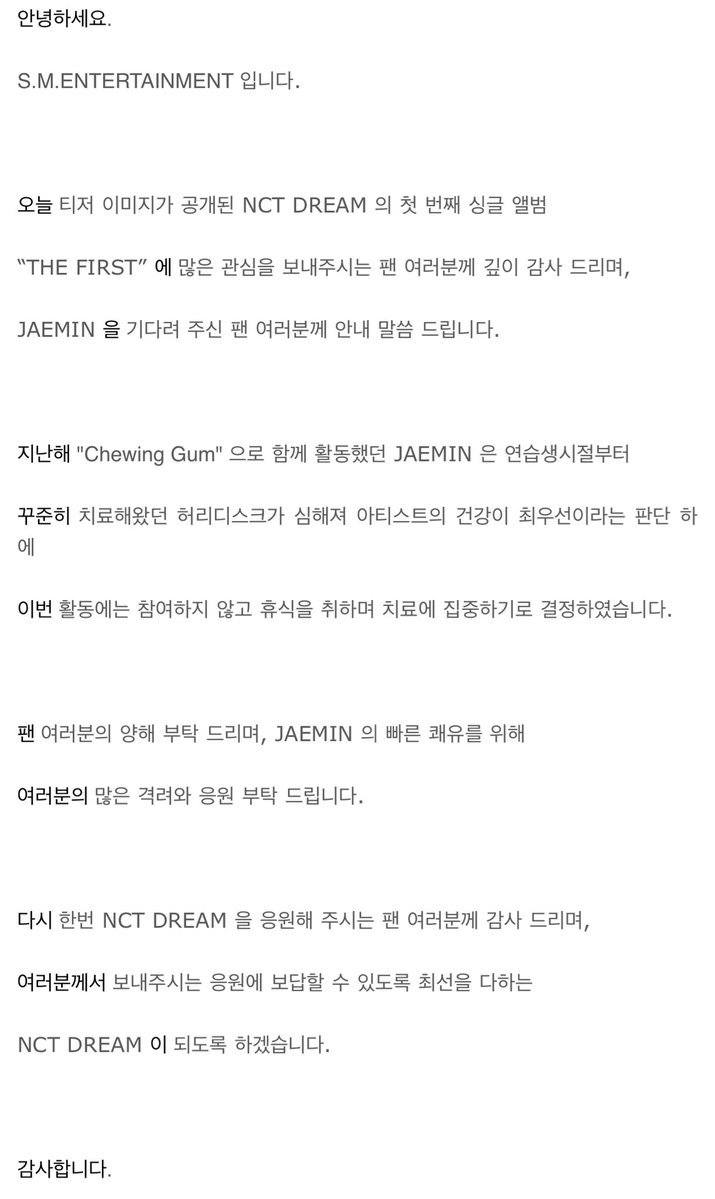 Source: NCT Daum Fan Cafe
Share This Post