Taeyang's leaves a cheeky comment on BIGBANG's concert page
Taeyang has taken his quick wit to Instagram again, this time in a hilarious comment on BIGBANG's concert page in Hong Kong.
On January 16, ELF ASIA, the concert promoter in charge of BIGBANG's concert in Hong Kong, posted a set of rules on their official page. The rules of the venue were published to warn fans that failure to comply could result in them being asked to leave the concert grounds.
One rule, in particular, seems to have caught Taeyang's eye, however – aside from the standard concert rules banning photography, big signage, smoking, and explosives, the concert organizers added public urination to its ban list. This inspired Taeyang to take the ban out of context and make the joke: "No Pee? Do not drink water everyone."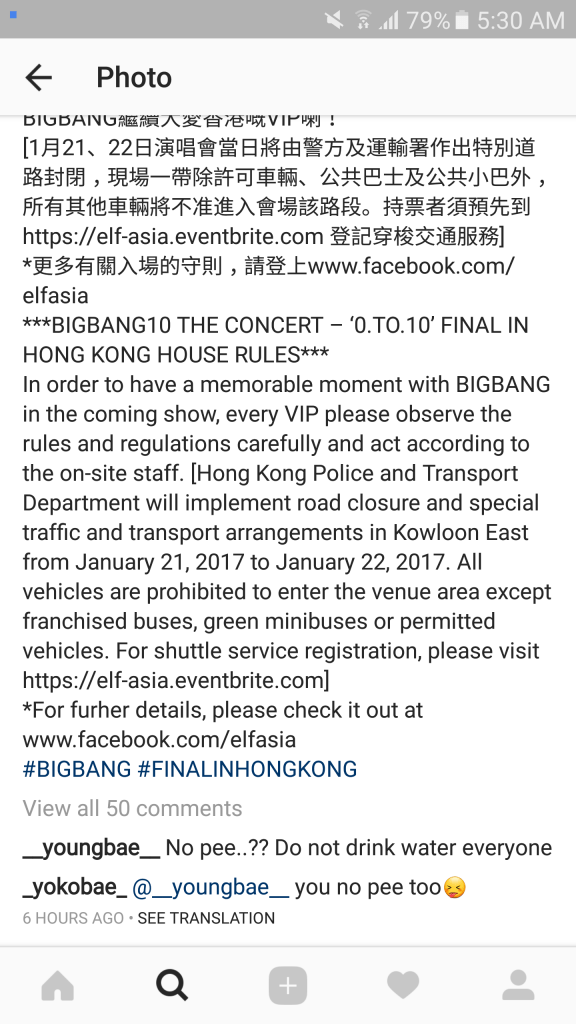 The event is the last stop of their 0.TO.10 tour before T.O.P prepares for his military enlistment. It will be held at the East Kowloon Cruise Terminal Outdoor Activities Square on January 21 and 22.
Taeyang also recently gained attention for his random posts on Instagram during his trip in France and Italy. In one trip, for example, he revealed that he gained an interesting friend but lost a few dollars along the way.
Taeyang Gets Scammed By A Local During His Vacation In Europe
Share This Post