TWICE Nayeon And Jungyeon Caught Fangirling Over Taeyeon At MAMA
Idols are sometimes huge fans of fellow idols and this time, the fangirling was caught in action on camera.

TWICE and GFRIEND attended the 2016 Mnet Asian Music Awards. Fancams filming the two groups were able to pick up an adorable reaction of some of the members.
After Taeyeon finished her stage, Yuju could be seen giving a thumbs up. She had previously revealed she was a huge Girls' Generation fan in a past interview.
Yuju said, "I almost cried after seeing the Girls' Generation seniors. Tiffany was wearing sunglasses but when I greeted her she said, 'I need to look you in the eye and greet you. I am watching your stages well' and greeted me back after taking off her sunglasses. I was really moved. Taeyeon said, 'Be careful of your knees (during the choreography)' and I went 'ahhhh' without even knowing it. I'm usually not one to express myself like that but it came out. My heart was fluttering and I was shaking. I was saying, 'Sunbae-nim I will be careful a million times!' in my head."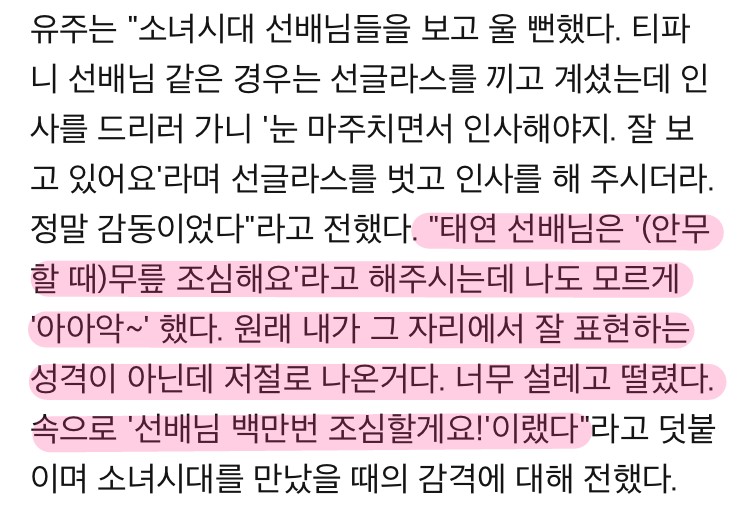 She was not the only Taeyeon fan in attendance at MAMA. TWICE Nayeon and Jungyeon were also caught on camera freaking out when they see Taeyeon.
Here's a closer look.
Looks like Nayeon can never take her eyes off of Taeyeon!
And then there's Taeyeon supporting her junior group when they get awarded. She can be seen dancing to TWICE's song.
It's great to see such love between senior and junior groups.
Share This Post