Dynamic Duo and Lena Park premiere "SsSs" in playful outfits
The Christmas special episode of Yoo Hee Yeol's Sketchbook was packed with fun as Dynamic Duo and Lena Park premiered their collaboration track on the December 19th airing.
The artists released the collaboration track "SsSs" earlier this month but have not performed it on shows until now. Following the quirky tone of this episode, the three are dressed in a country style with Dynamic Duo rocking sauna inspired orange shorts, t-shirts, and sandals. Lena Park takes a cuter concept, donning a Pippi Longstocking outfit with knee-length rainbow striped socks, a denim overall dress, and an earthy plaid shirt.
The stage lights up with their casual energy and the funky disco lights that reflect off prop snowflakes. Their chemistry in stage presence is surely mirrored by their vocal harmony as well. The three dominate the stage with their unique raps and melodies, making the track's first televised performance one to remember.
Check out the cheerful performance here: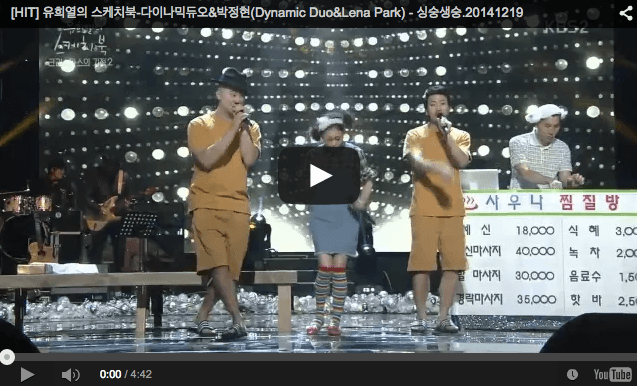 Share This Post