10cm playfully complains about Yoo Hee Yeol during showcase
10cm showed off their ever-close bond with Yoo Hee Yeol through a playful complaint about their overlapping album release dates!
It was at Jongrogu University in Seoul that one of Korea's top indie bands 10cm held a showcase for their upcoming 3rd album, 3.o. During one of their interviews, the duo stated, "In the past we used to appear on radio with Yoo Hee Yeol for a year. Back then, the listeners called Yoo Hee Yeol the father, and we were his sons," creating a sense of warm reminiscence among the audience.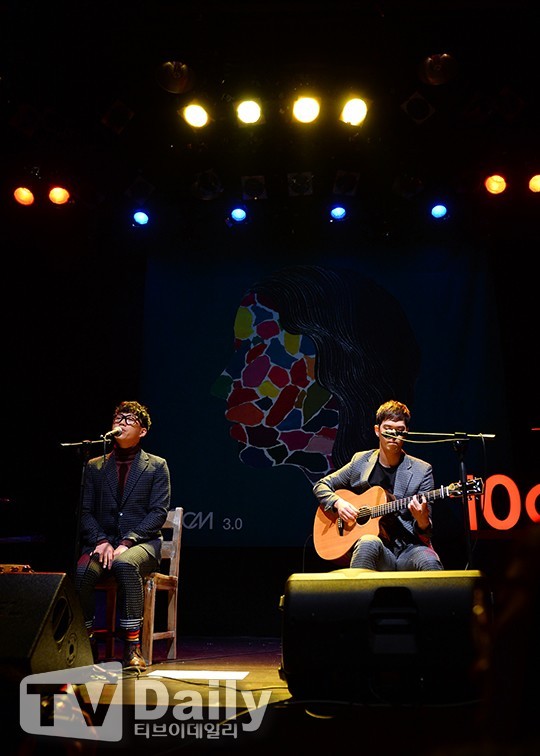 The interview then continued on, with main vocalist Kwon Jung Yeol revealing that, "When we met Yoo Hee Yeol sunbaenim a while ago, he said Toy's new album probably would not come out this year, to which I was relieved. However, it just so happened to be released around the same time as ours. The album, truth be told, is amazing. We hope that the father could take 1st place and the sons take 2nd." This continued to warm the hearts of their fans, especially those who have watched the indie duo grow over the years, as they developed into the musicians they are today.
The members did not hesitate to create a sense of faux-tension, through the declaration that, "I saw the Toy album sweep music charts and thought to myself, 'how could a father do this to his son?'", igniting laughter and comfort within those who came to support them and cheer them on.
10cm debuted in 2010 as a duo consisting of Kwon Jung Yeol and Yoon Cheol Jong, and has enjoyed much attention and recognition for their hit tracks, such as "Americano". Their 3rd studio album 3.0 is to be released digitally on November 19th.
Source: TV Daily
Share This Post