Alexandra Reid talks African-Americans in K-Pop, Hip-Hop, and the work ethic of RANIA
Music, art and lifestyle often brings out our strong, subjective opinions on race and representation, inclusivity, and diversity.
When DR Music confirmed Alexandra Reid, an African-American rapper and singer from Lawrence, Kansas, as their newest member of the reformed K-pop group RANIA (라니아), the news was met with gleeful surprise, praise, shock and disgust. It comes at time of heated debate between hardcore and casual fans of K-Pop and hip-hop, points of contention between cultural appropriation, creative licenses, and proper representation.
Most of the backlash in social media is sprinkled with great irony: East Asians, specifically Koreans, are finally being represented in American hip-hop (think of Keith Ape's meteoric rise), which is a great thing. But as Asians break the door down in black-dominated Hip-Hop, many K-pop fans expect (and demand) the already Western-influenced, modern-day K-Pop, which borrows heavily from R&B and Hip-Hop, to be racially and ethnically exclusive. Quite odd, considering that the R&B group Uptown, in the 90s, had Tasha (Yoon Mi Rae), who was Black-Korean, and Speedy Bullets, who was Mexican-Korean.  Casual fans of K-Pop are dismissing the historical "remixing" of art and are failing to see how, more than ever, "African-Americans" and "Asians" are just noticeably working together.
I recently caught up with Alexandra Reid because I wanted to navigate the fluidity between race and art, this "remixing" of the self-defined artist and person verses the socially-imposed idea of the artist and person. Alexandra Reid's father is white and her mother is black; she's bi-racial, even her racial classification is fluid, and the terms "black" woman and "African-American" woman, though used interchangeably, carry different connotations, with African-American often deemed more culturally specific.
Before joining the RANIA (라니아), Reid was best known as a Def Jam affiliated solo artist and a national model, who played Chris Brown's love-interest in Jamie Foxx's "You Changed Me" music video. RANIA (라니아) first debuted in 2011 with the Teddy Riley-produced "Dr. Feel Good." They also recruited new members Seulji and Hyemi to the group.
Alexandra Reid, the self-proclaimed sapiosexual, took time out from training to answer a few of my questions:
1. Are you able to measure the good/bad responses between the fan base within Korea verses the international fan base?
Actually no, I'm not. I have heard that there has been a bunch of press, but I have not read a single article. I do not search the internet or read extensively through comments because as a rule, I only worry about things that I can control.
Therefore, all of my focus is directed towards going onstage and doing a phenomenal job. Concerning myself with reactions (good or bad) would ultimately just be a distraction, so I opt to remain oblivious. All I have really seen in passing is the love directed to me on Twitter and Instagram, and it's so touching that I can inspire people.
2. Aside from your surprise inclusion to the band, what sets RANIA apart from other K-Pop groups? And are you afraid of simply being seen as a foreign novelty?
RANIA's whole flavor is powerful. In its sexiness, there is no weakness. I would have no interest in being a part of something that doesn't represent women as strong and powerful forces.
3. In your WordPress blog, Being Alex Reid, you said K-pop is "where you can still see powerhouse performers deliver world class performances, and FEEL the discipline and work ethic that went into them." Is working in a K-pop group a greater challenge than working a solo career in the U.S., particularly your experiences with Def Jam Records?
As far as my experiences go, there is nothing comparable to the work it takes to be in a K-Pop girl group. The discipline and physical demands are unmatched. In the U.S., I was working on my own schedule, so the schedule I set for myself was strenuous, leaving no time for leisure. I did leave time for sleep, however, and there has been no time for that out here.
4. You have an overwhelming amount of weight to not only perform as an artist, but to also simultaneously represent people of color and prove your naysayers wrong. What are you doing to help prepare yourself for the challenge?
The only pressure I feel surrounds the fact that I could essentially blaze a trail for others to chase their dreams regardless of ethnicity. That means more to me than any other success I could ever achieve. In order to open those doors, I can't just be good; I have to be great. Fortunately, I feel well prepared up to this point because I have dedicated my life to my craft, and this is what I was born to do; I would never waste energy that could be utilized in proving my supporters right.
5. The expectations are high for RANIA. What is your role in the group? Are you rapping and singing? Will you also incorporate some Korean in your verses?
My role is to bring my unique flavor to everything we do. I am rapping, singing, and composing music for the group. I plan to incorporate Korean into my verses as it comes naturally. I will not force it or insert it for the sake of marketing or gaining fans. When it's simply right for the rhyme and sounds fly: that's when I will incorporate it.
6. "Eating Samgyeopsal with my new sisters…" again, in your blog, you mentioned a very important experience in South Korea. What are some others ways that your Korean sisters have helped you assimilate into Korean culture?
The girls have taken me in as family, and helped immensely when it comes to making Seoul my new home. They go above and beyond to make sure that I know the proper greetings so that I always appear to be respectful and avoid any misjudgments. I am so appreciative of their support in my efforts to assimilate. Xia gifted me a coat on my third day here because she noticed I was always freezing. Seulji brought me tights because mine were torn. I couldn't have asked for a kinder or more supportive group of girls.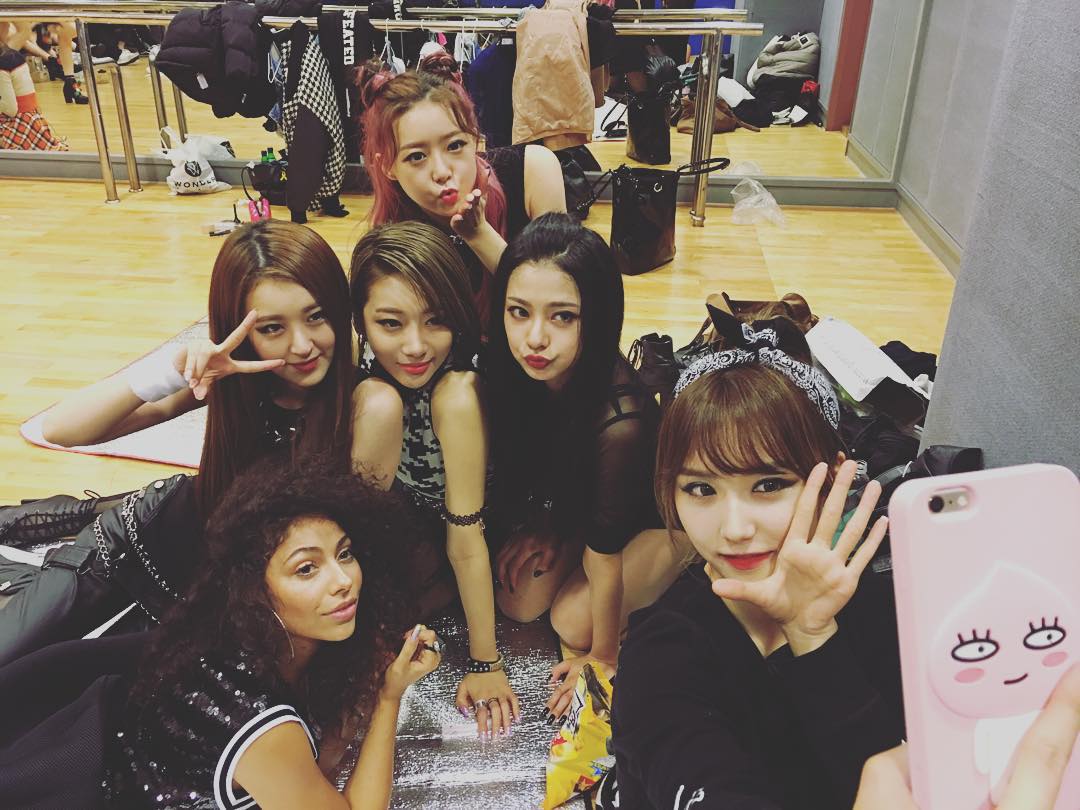 7. There is obviously a keen relationship between hip-hop R&B, and K-Pop. And, a few years ago, K-Pop fans of color went crazy over G-Dragon proclaiming his love for Rihanna. It seems like both sides are navigating superiority and inferiority complexes. However, do you think this type of cultural collaboration is creating a nice, friendly relationship between the Asian and Black communities?
At this point, I don't really know if the effect has been more unifying or polarizing. My hope would be the former. I would certainly never have left my home, and everything I know expecting to cultivate negativity. As far as I'm concerned, a love of music should always bring people together.
8. K-Pop is known for incorporating English in their songs to appeal to a larger audience. Hip-hopop elements are also incorporated, which is great so long as the artist understands and values the meaning and essence. As the first black artist in a K-Pop group, will people have a different take on cultural appropriation within K-pop? Does the dialogue change?
I don't know that the dialogue changes. All music pulls elements from different genres. It's a high form of praise. The roots of hip-hop are rich and meaningful. There is a lot of struggle, pain, and even death in its history. That needs to be remembered and respected forever. I'm not Afrika Bambaataa here. The music I make only pays homage to the artists who paved the way for these sounds. If anything, I just blur the line within K-Pop a bit more.
9. The music collaboration between Asians and Black Americans is actually quite extensive. Teddy Riley, Ne-Yo, Missy Elliott, Will.i.am, and few others come to mind. Hip-hop and R&B has certainly experimented in the last few years—sub genres are being created now. Aesthetically, where do you see K-Pop in the next 5-10 years?
Aesthetically, K-Pop could be a melting pot of cultures while remaining true to the classic elements of melody, world-class showmanship, and larger than life visuals. Talent should stand alone. There should never be boundaries set due to ethnicity.
10. What do you have to say to that young woman (and man) trying to accomplish something that is seemingly impossible?
The only boundaries that exist are the ones you set for yourself. With confidence, patience, and dedication, you are absolutely capable. I'm just a regular girl from Kansas, and now I can actually say that I made history. Nothing makes me any different from you. It's just an opinion, and I have an opinion of my own. Adopt that mentality, and move forward with determination. You have a unique gift that's worth sharing with the world.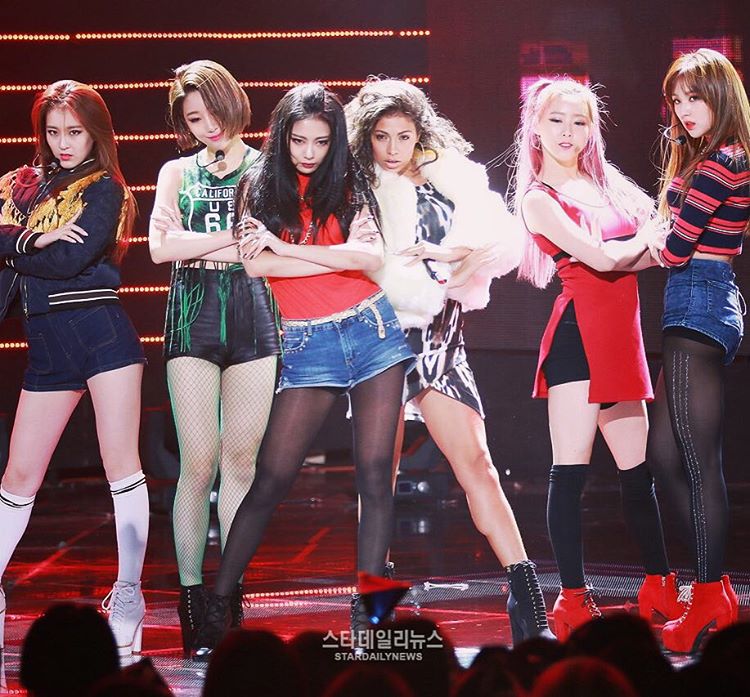 ---
Read this article on OogeeWoogee by Wilkine Brutus, Koreaboo's newly launched content partner.  Koreaboo's partner platform is where celebrities, content creators and our friends share a unique perspective on Korean content to our readers with original content!
---
About The Author:
Wilkine Brutus is a Haitian-American writer and digital content producer exploring the human condition.
Follow Wilkine Brutus on YouTube, Twitter and Instagram.
---
Follow OogeeWoogee on Facebook, Twitter, and Instagram!
Share This Post