K-Pop girl groups ranked in accordance to their 2015 promotions by netizens
With the end of the year coming up in just a few years, netizens have taken upon themselves to rank all of the girl groups who have promoted this year.
2015 was an extremely excited year for many K-Pop fans as both rookies and senior groups made a grande debut and comeback, making this year one of the most exciting one in the music industry yet. While some agencies debuted their very first girl group (Oh My Girl), others had those who haven't promoted together in a long while back for an exciting return (Wonder Girls).
Below is a translation of the Pann thread:
Find out what Netizens had to say about this article below!
Undisputed Champion – Girls' Generation (-)
National Level– SISTAR (↓ 1), Apink (-), AOA (-)
Local Level– Wonder Girls (Re-Entry), f(x) (-), miss A (↑ 1), Red Velvet (First Entry), Girl's Day (↓ 1), EXID (↑ 1), 4Minute (-)
Mania Level– TWICE (First Entry), KARA (↓ 1), MAMAMOO (First Entry), G-Friend (First Entry), 9MUSES (-), Lovelyz (First Entry)
Borderline Popular– 2NE1 (↓ 4)
—————————————————————————–
Upcoming – Brown Eyed Girls, After School, SECRET, T-ARA, Rainbow, Dal Shabet, Crayon Pop, Hello Venus, SPICA, FIESTAR, BESTie, April, CLC, SONAMOO, Oh My Girl
---
NETIZEN REACTIONS
Koreaboo has collected reactions from Netizens who commented on the original article from our Korean source. The below comments are the most popular comments at the time of this article being published.
---
[+218, -24] Why is AOA in National Level;; They didn't even have a solo concert nor are they as widely popular as Sistar nor do they have a huge foreign fandom. Their fandom isn't that big either. So why are they ranked so high?
[+189, -19] AOA shouldn't really be ranked so high ㅋㅋㅋ Their album sales didn't do that great nor do they have a huge fandom. Are you an AOA fan?
[+149, -55] You should leave 2NE1 out they're pretty much beyond recovery!!!
[+100, -11] 소What do you mean SNSD isn't the undisputed champion ㅋㅋㅋ They've taken care of Korean fans so their popularity is crazy. And plus even if you add all national and international fans together you can't even compare with SNSD.
[+91, -2] .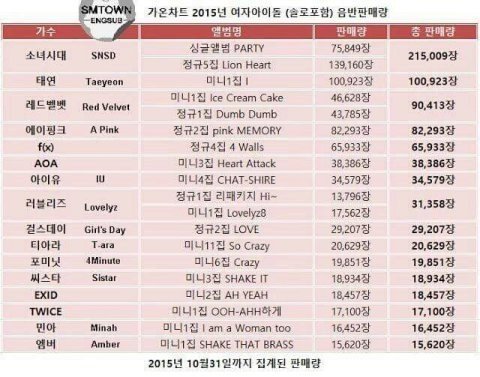 Source: Pann
Share This Post