15& Yerin's Instagram post attracts conflict
A recent Instagram post by 15&'s Baek Yerin has become controversial with netizens leaving differing comments. 
On February 19th, Yerin wrote on her Instagram, "(You) get it? Oh this picture is so funny. Keep this in mind (Be aware of it)," and left a photo of Adventure Time's Finn with a caption that read, "If I hit you seriously then you were dead."
While it is unknown whether the post was directed at a particular person or meant as a joke, the Instagram post spread like wildfire on various online communities, receiving conflicting comments from various netizens who either shared their disappointment in her post or supported her.
Netizens who came across her post responded in various ways stating, "Looks like she might be directing the message at someone," "A lot of people have already seen this I wonder why she's not deleting it," "I think it would be best if you took this off," on the other hand, some stated, "Are people seriously criticizing this," "I don't think we need to treat this post with that much significance.."
NOTE: Yerin has since removed her post. Below is a caption of the aforementioned post.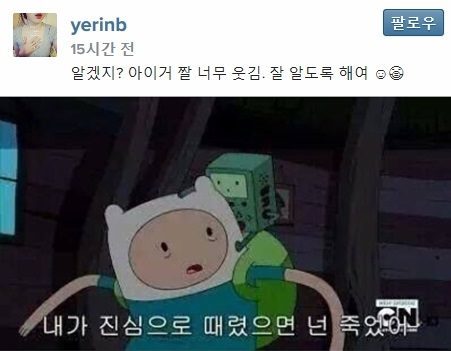 https://instagram.com/p/zRm6NFsx9e
Source: Asia Today and Korea Daily
Share This Post