15&'s Park Jimin is heartbroken after Red Velvet's Joy joins "We Got Married"
15&'s Park Jimin continues to showcase her love for Red Velvet's Joy as she revealed her thoughts on the rookie singer appearing on We Got Married.
Although Park Jimin has since cleared her Instagram biography, after the announcement of Joy joining the newest season of We Got Married, Park Jimin added "Oh joy" to her profile.
Prior to her Instagram update, fans got to see Park Jimin reveal her love for Joy on the April 7th episode of After School Club where Joy, along with the other members of Red Velvet, appeared as special guests. In addition to Park Jimin showcasing her excitement and love for Joy, the two posed for photos after the show.
Meanwhile, Park Jimin was featured on Eric Nam's latest track "Dream."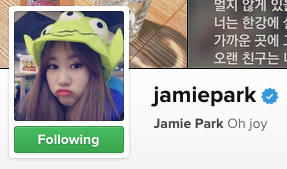 오늘 레드벨벳본다ㅜㅜㅜㅜㅜㅜㅜㅜㅜㅜㅜㅜㅜㅜㅜㅜㅜㅜㅜㅜㅜㅜim finally meeting red velvet ㅠㅠㅠㅠㅠㅠㅠㅠㅠㅠㅠㅠㅠㅠ 조이언니ㅜㅜㅠㅠㅠㅠㅠㅠㅠ사랑해요 😍😍😍😍😍

— 지민지민지민 (@jiminpark07) April 7, 2015
Source: Park Jimin's Instagram
Share This Post