[★VIDEO] Apink gains 8th overall win for "LUV" on SBS Inkigayo
Apink continues their winning streak with their hit title track "LUV," gaining their 8th overall music award trophy on the December 15th episode of SBS Inkigayo.
The popular girl group's track "LUV" went up against King of Ballads Sung Si Kyung's "Winter Wonderland" and GD x Taeyang's "Good Boy," all of which have topped charts days since its release. With 7,915 points in the lead, Apink nabs their 2nd consecutive Inkigayo win. GD x Taeyang follow closely behind with 7,027 points, and Sung Si Kyung with 6,286 points.
Chorong takes the lead with the winning speech today, saying, "To our agency family, thank you. Also thank you to our fans and the six members' parents. This year, with 'Mr. Chu' and now 'LUV,' I'm happy we were able to release two albums this year. Apink will work harder and will not forget this day."
With news of their win, #LUV8thWin immediately began to trend on Twitter worldwide. Congratulations to Apink!
https://www.youtube.com/watch?v=CH68kXgGz6k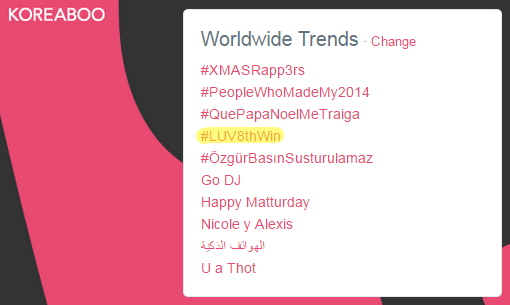 Share This Post