BEAST's Dongwoon apologizes for calling AOA's Choa old
After calling AOA's Choa old on a recent broadcast, BEAST's Dongwoon posted an apology for his comments on Twitter. 
When the FNC Entertainment singer made an appearance on popular MBC show King of the Masked Singer, Dongwoon, who is a fixed member on the show's panel, made a comment that Choa was "past her prime." Although she's only 26 years old, many people consider a female idol over the age of 25 as past her prime, stemming the Cube Entertainment singer's comments.
Although he posted a public apology on Twitter, however, many netizens have commented that his comment was made as a joke, and since Choa did not appear to be offended by his jest, he did not have to make such a post.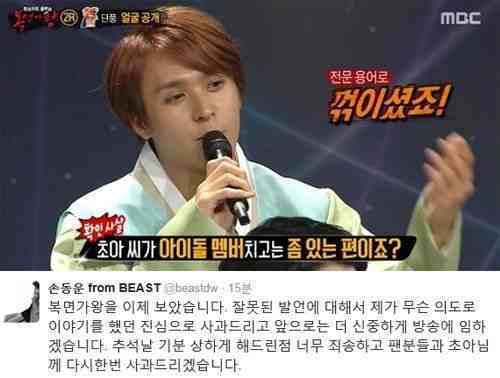 "I just saw King of Masked Singer and I'm sorry about what I said. It doesn't matter why I said it, I would like to apologize and promise that I would choose my words more carefully next time. I am sorry to Choa and her fans that I have offended on a national holiday Chuseok."
---
NETIZEN REACTIONS

Koreaboo has collected reactions from Netizens who commented on the original article from our Korean source. The below comments are the most popular comments at the time of this article being published.
---
[+ 1121, – 238] Rofl why is this even an issue people make fun of guys in their twenties that come back from the army calling them ahjussi all the time
[+ 965, – 226] What's the problem with saying that some one is in her late twenties?? It would have been an issue if Choa minded but she didn't. Is this Choa's fans making an issue or women in their late twenties flipping out
[+ 829, – 139] It's not something that needs an apology but Dongwoon's attitude of owning up to his wrong doings and apologizing is a very good attitude. I like how he admitted his faults and didn't try to make excuses
Source: Herald Pop
Share This Post