BIGBANG's T.O.P warms fan's heart after touching advice on Instagram
Known for his witty responses and random updates, BIGBANG's T.O.P shared a sensible advice as he responded to a troubled fan. 
As T.O.P constantly shares his fondness over the arts and architecture, he managed to read across a fan's comment seemingly troubled over her choice of studying architecture design. In the reply, the fan detailed that their future for architecture design seems bleak as many students continuously drop the subject, but explained that she remains persistent towards their dream. She also explained that despite the struggle, she looks up to T.O.P for strength and inspiration.
T.O.P, who seemed touch by the message, personally replied to the fan and wrote, "No… it's not that architecture design has no vision, it is the people without it that drop the subject. It can be applied to any situation. It's only the people that believe that there is a future in it achieve it in the end, right? There are people who wishes for a future but leaves it to fate and others hesitate because they contemplate… Don't worry and do great things… I actually feel a lot of happiness and reading into hopeful comments like yours!!!" 
Despite being known to troll his fans on Instagram, it seems like T.O.P earned a lot of love for his insightful comment!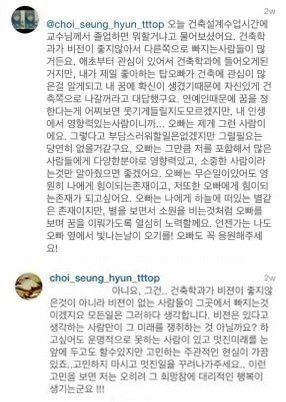 Source: Star Today
Share This Post