BIGBANG's Upcoming Guerilla Concert Cancelled Due To Safety Concerns
VIPs faced quite disappointing news today after YG Entertainment cancelled BIGBANG's upcoming guerrilla concert. 
On May 23rd, YG Entertainment posted the announcement on their official homepage and apologised for the cancellation.
According to the agency, they were initially planning a guerrilla concert for BIGBANG to commemorate their tenth anniversary. The agency reportedly already started designing various events and plans for the concert in place when the news got leaked to the fans and the media.
YG Entertainment, BIGBANG and even their fans also expressed concerned about the event as worries about accidents occurring for such are larger.
After much discussion, the agency and the group decided to cancel the surprise event and hope to find other means to enjoy the tenth anniversary in a safer way through other events.
Stay tuned for developments on this event.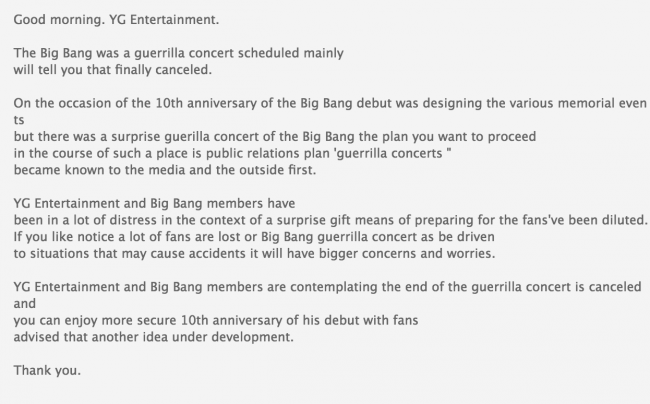 Source: YG Entertainment
Share This Post