BOYFRIEND receives 1st win on SBS MTV "The Show" for "Witch"
BOYFRIEND shed tears of joy as it was announced that they won first place on SBS MTV The Show. This marked their first win since their debut, making it a milestone in their career.On the November 11th broadcast of SBS MTV The Show, BOYFRIEND performed their comeback track "Witch." This was their title track in their 3rd mini album, which was released last  October 13th.
Since this is their first win on a show since their debut the members were understandably happy, and they even received well wishes via Twitter from their seniors K.Will and JunggiGo.
K.Will congratulated the boys saying "Everyone please be happy, our BOYFRIEND boys have finally won first place since their debut!! They did it~ㅠㅠ Look at this puzzled look ha Great job!! Cool!! Let's congratulate them together~!!" 
여러분 기뻐해주세요 우리 보이프렌드 녀석들이 드디어 데뷔 첫1위를!! 했습니다~ㅠㅠ 이 얼떨떨해 하는 모습들을 보라ㅎ 장하다!! 멋지다!! 함께 축하해주세요~!! pic.twitter.com/ZDqTwSJV2I

— K.will (@Thsm1) November 11, 2014
While JunggiGo said, "Our BOYFRIEND juniors who always work hard. Congratulations on today's 1st win!" 
항상 열심히 했던 우리 보이프렌드 동생들. 오늘 1위 한거 축하한다! 👏👏👏

— junggigo (@junggigo) November 11, 2014
However K.Will and JunggiGo were not the only ones to congratulate the boys, as fans from around the world celebrated this win by making #BOYFRIEND1stWin trend worldwide on Twitter.
Meanwhile, BOYFRIEND is now preparing for their first concert in South Korea since their debut, Bewitch, which will take place on Sunday, November 23rd at the Olympic Hall in Seoul.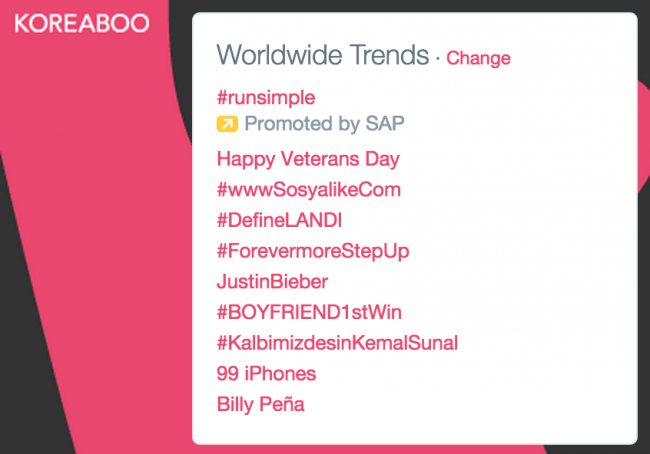 Share This Post