BTOB's Hyunsik is the group's first member to join Weibo
In the month of January, we saw a sharp increasing trend of K-pop stars joining Weibo, the Chinese social networking site. Starting off the month of February, BTOB member Hyunsik became the first of the group to create a personal Weibo account!
Hyunsik created his Weibo account BTOB任炫植 with his first post on February 4th, greeting his Chinese fans fluently in Mandarin, "Long time no see Chinese Melodies! How have all of you been? I finally created a new account ha. Love you all." Hyunsik owes much of his proficiency in the Chinese language to the two years which he had previously spent studying abroad in Shanghai.
The rest of BTOB will join him in surprising everyone with their Chinese speaking skills on February 7th on the MBC radio show Idol True Colors, hosted by miss A's Jia, Fei, and Super Junior-M's Zhoumi.
Besides following Cube Entertainment and BTOB's official Weibo accounts, Hyunsik is also following LEGEND's Roi and Cheney Dong on Weibo, the latter of whom trained under Cube Entertainment.
Hyunsik also confirmed his Weibo account and asked for everyone to follow him through a Tweet.
Other K-Pop stars who recently joined Weibo include LUNAFLY's Yun, U-KISS, Sohee, and more.
Weibo 계정 만들었어요! ♥︎ 이렇게 알려주면 되는건가? pic.twitter.com/fbbWshgGjl

— 임현식 (@BTOB_IMHYUNSIK) February 4, 2015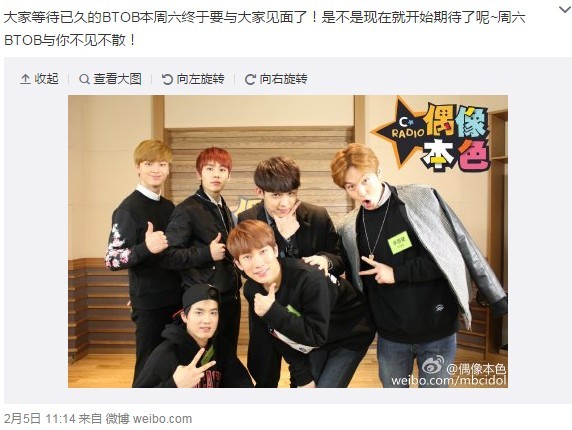 Source: Hyunsik's Weibo Account
Share This Post