BTOB's Minhyuk lightens the mood by creating a heart with Girl's Day Minah after hilarious fall
Recently, the official press conference for the upcoming MBC television mini-series Sweet, Savage Family featuring Girl's Day Minah, BTOB's Minhyuk, Kim Eun Soo, Yoo Sun, Jung Woong In, Jung Jun Ho, and more. 
Held on November 16th in Sangam-dong, Mapo-gu, Seoul at the MBC office building, the press conference occurred just two days before the official premieres of the upcoming television drama.
However, the press conference didn't go without minor incidents with Minhyuk slipping as he came up the stage, landing on his hands and knees but coolly getting up to post next to Minah. Just soon afterwards, he tried to relieve the mood, forcing a laughing Minah to create a heart between their two hands.
Later in the press conference, Minhyuk and Minah performed a sweet and beautiful duet together. Watch it below!
Find out what Netizens had to say about this article below!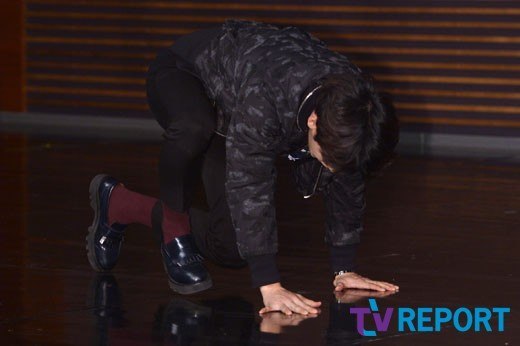 ---
NETIZEN REACTIONS
Koreaboo has collected reactions from Netizens who commented on the original article from our Korean source. The below comments are the most popular comments at the time of this article being published.
---
ㅋㅋㅋㅋㅋㅋㅋㅋㅋㅋㅋㅋㅋㅋㅋㅋㅋㅋㅋㅋㅋㅋㅋㅋ
Lee Minhyukㅋㅋㅋㅋㅋㅋㅋㅋㅋㅋ
ㅋㅋㅋㅋㅋㅋㅋㅋㅋㅋㅋㅋㅋㅋㅋㅋㅋㅋㅋㅋㅋㅋㅋㅋㅋㅋㅋ So adorableㅋㅋㅋㅋㅋㅋㅋㅋㅋㅋㅋㅋㅋㅋㅋㅋㅋ
Minhyuk-ah ㅠㅠㅠㅠㅠㅠㅠㅠㅠㅠㅠㅠ
Share This Post