[★VIDEO] BTS apologizes with cookies for late appearance at press conference in Malaysia
BTS were praised by the Malaysian media when the group appeared late at the press conference for their concert in Kuala Lumpur.
The seven boys are currently visiting Malaysia for their Episode II: The Red Bullet world tour concert stop. Brought to Malaysian fans by concert organizer IME Productions, the concert itself will be held today (June 6th) at 6PM local time, but BTS greeted their fans during the Hello fanmeet session and the press the day before.
The Hello session with fans was scheduled to start at 6.30PM, while the media session at 8PM. Due to the tight schedule, BTS was not able to make it in time for the second schedule. The press conference started around an hour late, at 9PM, and lasted for about 30 minutes.
The press who were present were impressed by their manners as leader Rap Monster also relayed his apologies in English on behalf of the team. "Thank you so much for welcoming us, we love everything in Malaysia. We practiced so hard for this concert, please come see us tomorrow. Sorry for this late delay and thank you coming here again. Thank you so much, we are BTS."
The Red Bullet will continue around with world with many more stops, ending in Hong Kong on August 29th.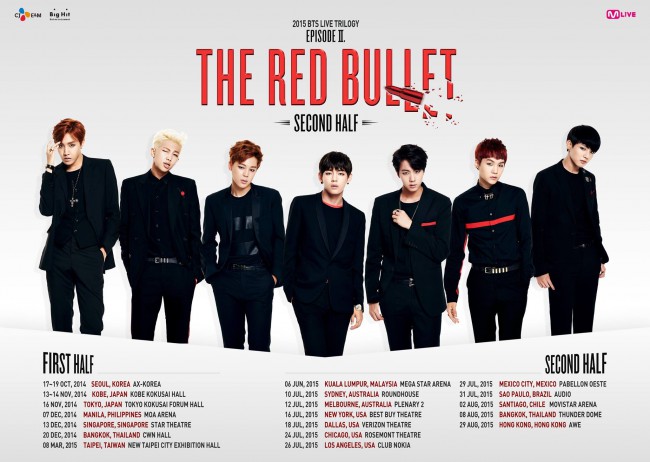 Thank you so much for the cookie BTS! the boys were so thoughtful to prepare cookies for the media as apology gift cause the press con started late. #BTSinMY

Posted by KAvenyou on Friday, June 5, 2015
Share This Post