BTS criticised for exaggerated articles on official homepage
BTS received a number of negative comments for the articles posted on their official homepage and message boards. 
On December 7th, netizens discovered the number of articles posted on BTS' message boards and criticised it for its exaggerated reporting. The notice on their website repeatedly posted articles about the group's 90,000 sales mark, even making a quick reference as EXO's emerging rivals. Other statements criticised by the netizens include, "#1 on real-time and weekly charts of Manteo! SM and YG Entertainment level!" and "The rise of the scary boys… 90,000 copies sold in the first week!" 
Although BTS was praised for managing to sell 90,000 copies of their latest album, The Most Beautiful Moment In Life Pt. 2, however, fans feel irritated with the nonsense articles posted on their homepage instead.
Find out what Netizens had to say about this article below!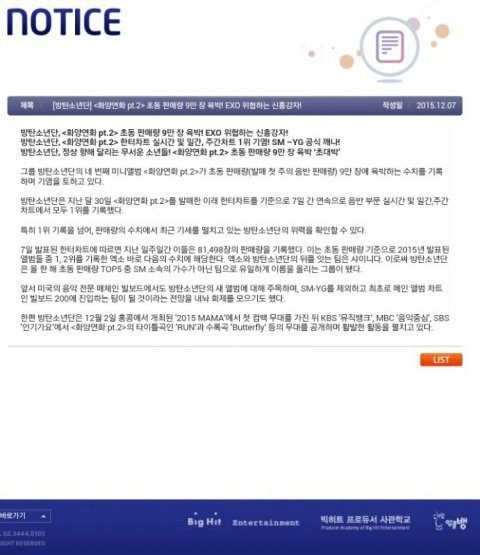 Post Translation: "Group BTS recorded over 90,000 album sales with their 4th mini album, The Most Beautiful Moment In Life Pt. 2. According to Hanti Charts they recorded first for 7 days since November 30th and their sales showed the true power of BTS. According to Hanti charts published on the 7th, their initial sales record is right under EXO who won 1st and 2nd place and above SHINee. Of the TOP 5 BTS is the only non SM group"
---
NETIZEN REACTIONS
Koreaboo has collected reactions from Netizens who commented on the original article from our Korean source. The below comments are the most popular comments at the time of this article being published.
---
[+ 212, – 8] The initial sales isn't what's important here. It's the fact that they mentioned other artists on their official home page ㅋㅋㅋㅋ What do they mean by the article title "A new power that threatens EXO"
[+ 209, – 6] Wow what was the official home page thinking? ㅋㅋㅋㅋㅋㅋㅋㅋㅋㅋㅋㅋㅋㅋㅋ do they not know the amount of sales EXO has?
[+ 141, – 12] They had 2 albums, 8 posters and 4 fan sign events during this sales period.
Source: Pann
Share This Post