BTS members strike funny poses as they unveil their official fan lightsticks
Nearly two years after the debut of the Bangtan Boys (BTS), Big Hit Entertainment finally announces the official release of the group's fan lightstick!
On March 10th, BTS' official lightstick design was unveiled through the group's fancafe which shines a silver-gray color. Having a translucent, rounded shape, the lightstick mimics the pattern of a globe describing how the group has taken over the world with growing international popularity.
All seven members of BTS also shared photos of them posing with the lighted lightstick, while casually wearing long white dress shirts and black ties.
Suga first tweeted, "Hello, I am Suga. ARMYs from all over the world give me strength!!! It may look like we're gathering strength but it's actually the facial expression before the ARMY bomb explodes."
Jin then shared in the next tweet, "Oh my, what is this! I also want this ㅠㅠㅠㅠ Right, Hope-ah? Let's do it."
Jimin tweeted lastly, "Wow it's a bomb! It's going to explodeeeee. Taetae-ya, you should show your acting skills more kekeke We received it before you guys!"
The timely release of the official lightstick allows fans to unite and create a light-filled sea of the same color at their second solo concert tour BTS Live Trilogy – Episode 1: BTS Begins. The tour will kickstart in Seoul on March 28th and 29th. Meanwhile, the group just completed their stop in Taipei on March 8th with their Asian tour BTS Live Trilogy – Episode II: The Red Bullet.
Each official lightstick costs 22,000 won, and pre-orders will take place between March 12th 5PM KST to midnight of March 20th through their official page and Yes24. Actual sales will start in April.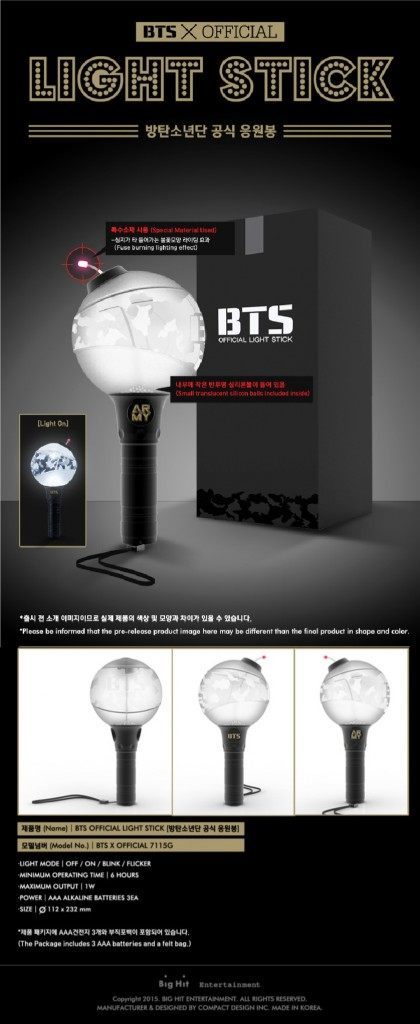 안녕하세여 슈간데여 전 세계아미들아 나에게 힘을줘!!! 원기옥 모으는거 아님 아미밤임 곧 터지기 직전의 모습임 pic.twitter.com/RyWHZElN1W

— 방탄소년단 (@BTS_twt) March 10, 2015
어머나 이게 뭐람
나도 이런거 갖고 싶었어ㅠㅠㅠㅠ
그치 홉아
그렇다해 pic.twitter.com/VFys95sLgC

— 방탄소년단 (@BTS_twt) March 10, 2015
와 폭탄이야 터진다아아아아아
태태야 연기 더하라고 ㅋㅋㅋ
여러분보다 먼저 가졌지롱 pic.twitter.com/uSf6eyLlmV

— 방탄소년단 (@BTS_twt) March 10, 2015
Source: BTS' Fancafe
Share This Post