BTS smothers themselves with lipsticks after winning on Mnet M! Countdown
On May 7th, the Bangtan Boys nabbed their 2nd win with their latest comeback track "I NEED U" off of their new mini-album The Most Beautiful Moment In Life, Part 1.
The candidates for the top place were EXID and BTS, and in the end, the boy group won their 1st trophy for M! Countdown.
Previously, BTS promised that if they won on this episode of M! Countdown, they would perform their encore stage with red lipstick. After the MCs announced win, the group began to smother each other messily with bright red lipstick in the midst of the excitement of their second win!
In addition, fans immediately began to trend #BTS2ndWin and was the #1 trending hashtag Worldwide soon after the show. This follows their first win on The Show two years after their 2013 debut.
Congratulations, BTS, on your success!
https://www.youtube.com/watch?v=AK3XjL9iJvI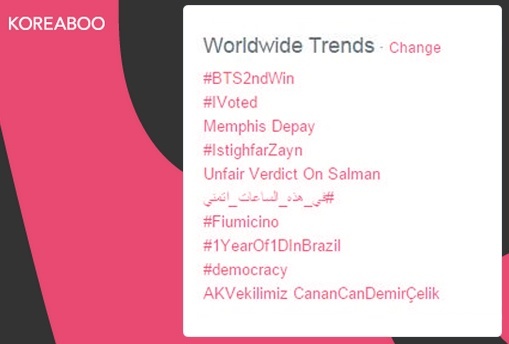 Share This Post