Children of "Superman is Back" receive Popularity Award at 2014 KBS Entertainment Awards
2014 was a year blessed with many rising stars in all different fields of entertainment, but the most notable rising stars of South Korea have proven to be the adorable child stars of KBS's mega-hit show Superman is Back. 
Their consistently accumulating popularity is not only evident in their impressive Sunday night TV ratings, but also in receiving the honorable Popularity Award at the 2014 KBS Entertainment Awards.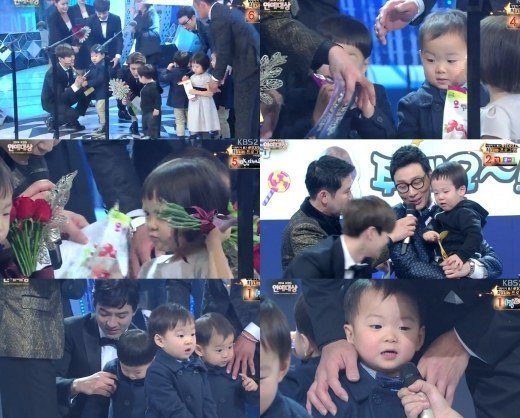 The stage for the presentation of the "KBS Popularity Award" initially did not lack in any component, as viewers and audience were graced with the overwhelmingly charismatic aesthetics of special MC's Suho, Xiumin and Sehun of EXO. 
However, once they announced that the winners of the prestigious title were Lee Haru, Choo Sa Rang, Dae Han, Min Guk, Man Se, Lee Seo Eon and Lee Seo Jun of Return of Superman, it is safe to say that the once residing peacefulness of the stage had been bid farewell, as the children and their fathers made their way to accept the award.
The children had both the audience and the MC's cooing over their adorable blankness and inability to comprehend what exactly was occurring at that very moment, as their fathers were wildly running around the stage in an attempt to catch a runaway child.
However, it was the questions the fathers were asked in the stead of their speechless children that truly amused the audience.
One such question was addressed to Sarang's father Choo Sung Hoon, who was asked by MC Shin Dong Yup, "What were your sentiments when Manse and Sarang kissed?" His reply was, "I didn't know about it until I watched the actual broadcast, so I was surprised," drawing laughter from the audience.
This was then followed by another question by Shin Dong Yup, this time to the triplets' father Song Il Kook, asking, "Did you intentionally plan on having triplets?", to which Song Il Kook's flustered reply was, "Not really. We did whatever and then…"
Though the children's acceptance of their awards was simply the most adorable moment of the entire show, there is the clearly noticeable lack of Haru and Tablo's presence. This is due to Epik High's current Parade 2014 tour, with Busan being the concert venue, that clashed with the awards night. However, Lee Hwi Jae expressed Tablo's gratitude upon acceptance, explaining the reason behind his absence.
Check out the children's acceptance clip below!
Source: E Today
Share This Post