Duble Sidekick, Kim Ina and more participate in Apink Jung Eunji's "DREAM" solo mini-album
Apink member Jung Eunji's track list for her 1st solo mini-album Dream has been published, revealing the participation of well-known composers and lyricists such as Kim Ina.
Published via Apink's various SNS accounts on April 12th, her mini-album Dream will contain a total of five tracks one of which is a piano version of her title track, "Heliopsis (하늘바라기/Haneul Baragi)." The Heliopsis helianthoides is a type of flower that is part of the flower family commonly known as the false sunflower.
As the leading track, the song is revealed to have its lyrics written and composed by Duble Sidekick, Eunji and long candy.
Other tracks include "Love Is Like the Wind," "It's OK," "Home" and "Love Is."
Look out for her album coming out on April 18th at midnight KST!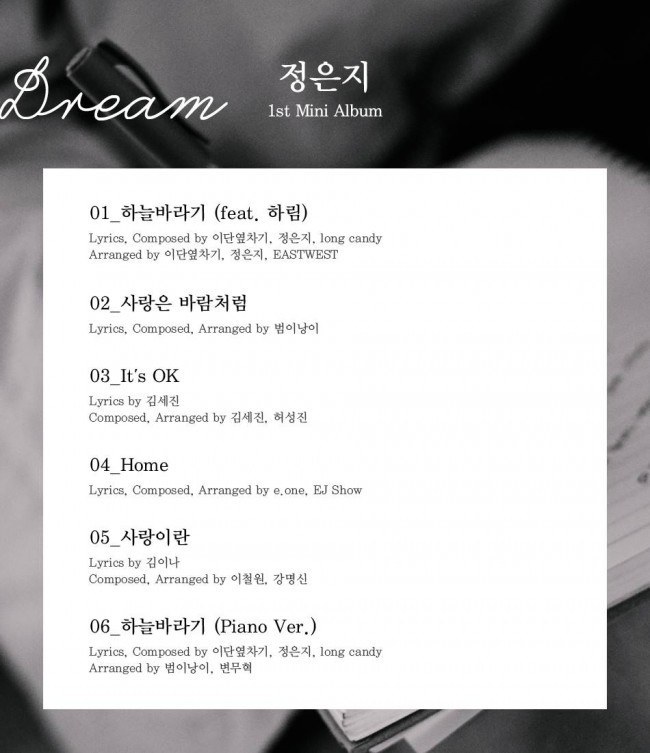 01. Heliopsis ft. Harim
Lyrics, Composed by Duble Sidekick, Jung Eunji, long candy
Arranged by Duble Sidekick, Jung Eunji, EASTWEST
02. Love Is Like The Wind
Lyrics, Composed, Arranged by Namking Nam
03. It's OK
Lyrics by Kim Se Jin
Composed, Arranged by Kim Se Jin, Heo Seong Jin
04. Home
Lyrics, Composed, Arranged by e.one, EJ Show
05. Love is
Lyrics by Kim Ina
Composed, Arranged by Lee Chul Won, Kang Myung Shin
06. Heliopsis (Piano Version)
Lyrics, Composed by Duble Sidekick, Jung Eunji, long candy
Arranged by Namking Nam, Byun Moo Hee
Share This Post