Enes Kaya of JTBC's "Non-Summit" under fire after news of his infidelity scandal
JTBC's Non-Summit's star, Enes Kaya, is currently under fire after various online posts were revealed of his scandalous conversations with Korean women. What is even more shocking about these posts is that Enes Kaya has previously revealed on the show that he is married, yet he has been talking and flirting with various women via Kakao Talk and various other SNS sites.
The first woman (hereby known as "A") posted these pictures along with a caption on November 30th, "Enes Kaya apologize to me and apologize to your wife. Change the way you live. I get furious when I think of how you played me, I feel dirty. As a woman and a Korean I feel sorry for your wife. Lies don't last forever. If you're married be loyal, if you can't be loyal don't get married. I hope no one else gets fooled by you and those who are calling me a liar and rumor creator shut up please. Things haven't been confirmed. If you want to talk to me, log in and talk. Don't just leave comments as a guest."
Below are the Kakao Talk screencaps between "A" and Enes Kaya, translated by Koreaboo: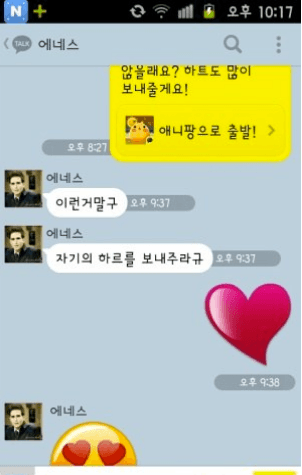 A: *Sends Anipang [game invite] hearts*
Enes: Not these
NS: Send me your heart
A: ♥
NS: 🙂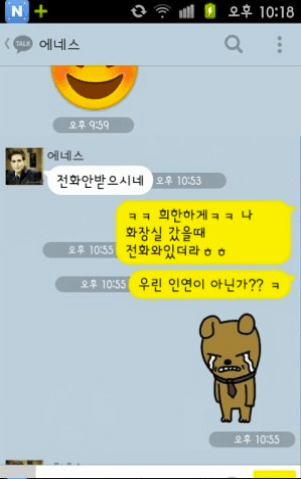 Enes: You're not picking up
A: ㅋㅋ It's weird ㅋㅋ whenever I go to the washroom you call me ㅎㅎ
A: May be we're not meant to be?? ㅋ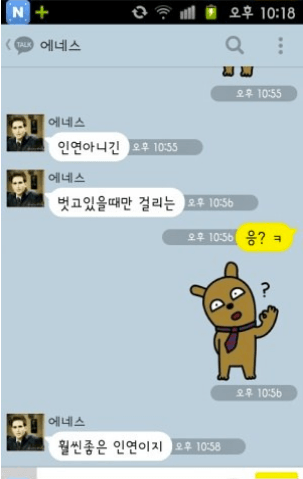 Enes: What are you talking about
Enes: It means you're naked whenever I call you
A: Huh? ㅋ
A: *clueless emoticon*
Enes: It's the best kind of destiny.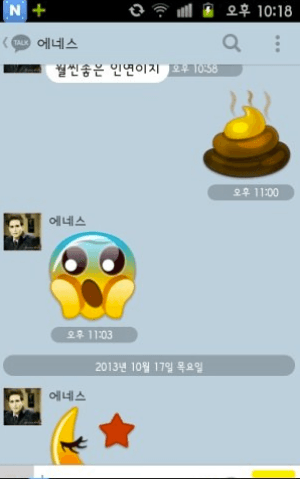 A: *poop emoticon*
Enes: *scared face emoticon*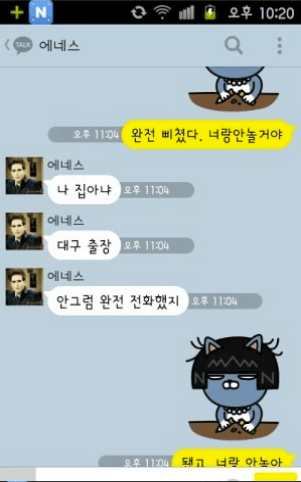 A: I'm mad at you, I'm not gonna talk to you.
Enes: I'm not home
Enes: I'm in Daegu for a business trip
Enes: I would have called you otherwise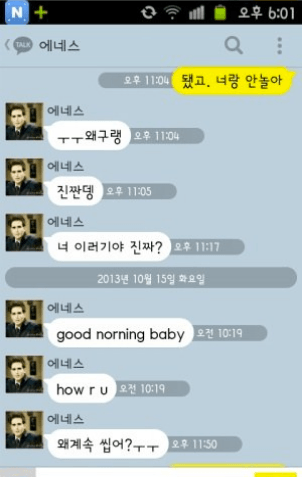 A: I don't care, I'm not going to play with you
Enes: ㅜㅜ why
Enes: I'm being honest
Enes: Are you really gonna do this?
—–October 15th, 2013——-
Enes: Good norning [morning] baby
Enes: How r u
Enes: Why do you keep ignoring me? ㅜㅜ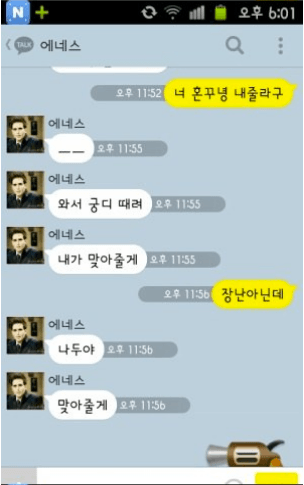 A: As punishment
Enes: – –
Enes: You can come smack me in the ass
Enes: I'll let you
A: I'm not kidding
Enes: Me neither
Enes:I'll let you spank me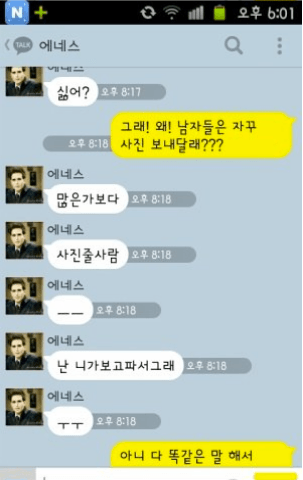 Enes: No?
A: NO! WHY! Why do men keep asking for pictures???
Enes: I guess
Enes: You have a lot of guys to give photos to
Enes: – –
Enes: It's because I wanted to see you
Enes: ㅜㅜ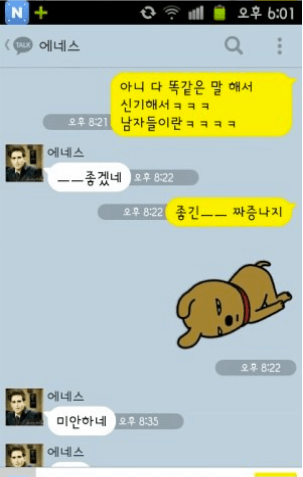 A: No, I thought it weird how guys all say the same things ㅋㅋㅋㅋㅋㅋㅋㅋㅋㅋㅋ
Enes: – – good for you
A: Not really, it's annoying
Enes: I guess, I'm sorry then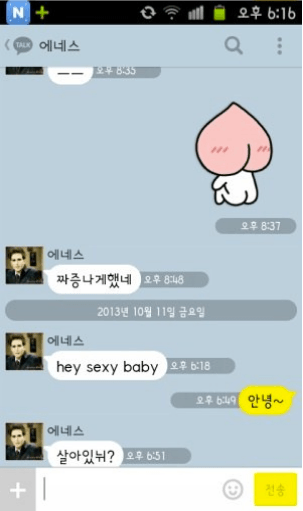 Enes: For annoying you
—–October 11th, 2013——-
Enes: hey sexy baby
A: hello~
Enes: you're alive?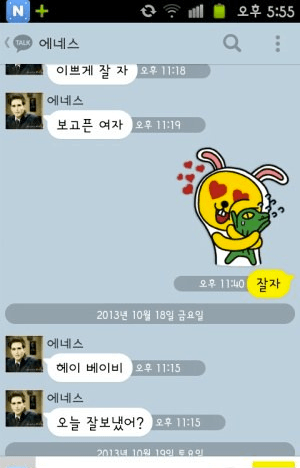 Enes: Good Night
Enes: I miss you
Enes: Sleep tight
—–October 18th, 2013—–
Enes: Hey baby
Enes: Did you have a good day?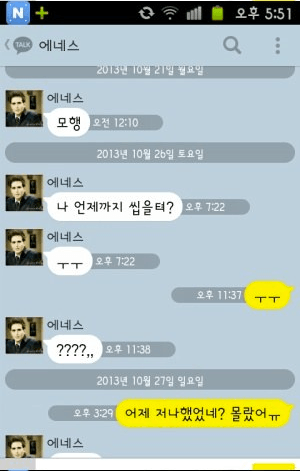 —–October 21st, 2013—–
Enes: What are you doing?
—-October 26th, 2013—
Enes:  Are you going to keep ignoring me?
Enes:  ㅜㅜ
A:ㅜㅜ
Enes:  ????,,
—–October 27th——
A: Did you call me yesterday? I didn't know ㅠ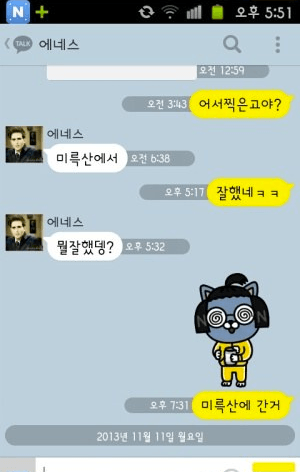 A: Where did you take the picture?
Enes:  Mount Mireuk
A: Good job
Enes:  Good job for what?
A: Going to Mireuk mountain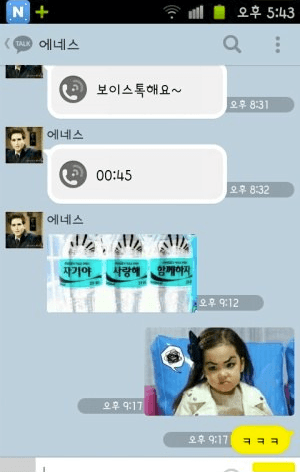 Enes:  *Voice talk in progress (45 sec long)*
Enes: [Picture says: I love you honey lets be together]
A: [Picture: screencap from Lee Hyori's "Bad Girls"]
A: ㅋㅋㅋㅋ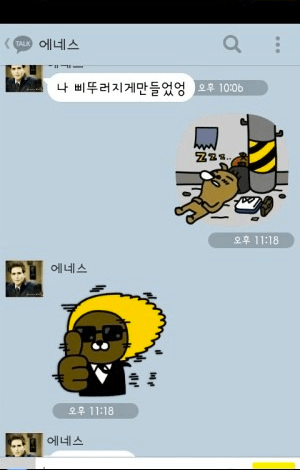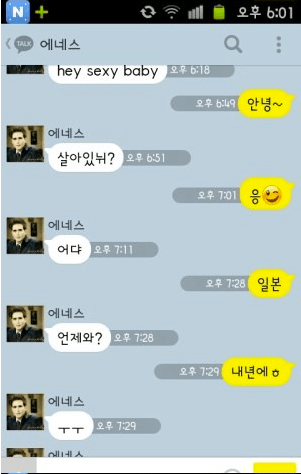 Enes:  Hey sexy baby
Enes:  Hello~
Enes:  are you alive?
A: Yup 😉
Enes: Where are you?
A: Japan
Enes:  When are you coming?
A: Next year ㅎ
Enes:  ㅜㅜ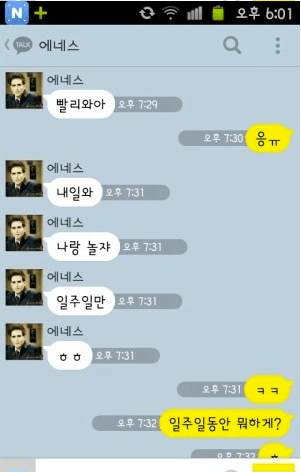 Enes:  Come back sooner
A: okay ㅠ
Enes:  Come tomorrow
Enes:  Play with me
Enes: For a week
Enes: ㅎㅎ
A: ㅋㅋㅋ
A: What do you want to do for a week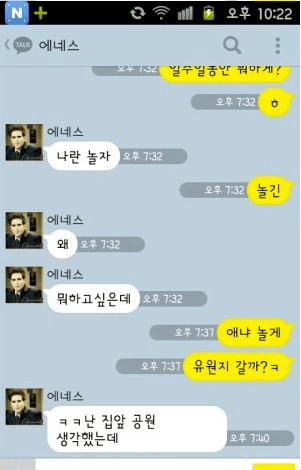 Enes: Play with me~~
A: what do you mean play
Enes:  why
Enes:  What do you want to do
A: Are you a kid
A: You want to go to an amusement park?
Enes:  I was just thinking a park in front of the house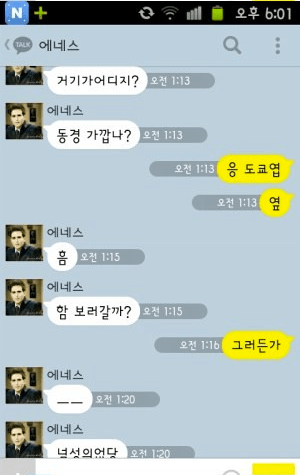 Enes:  Where is that?
Enes:  Is that close to Tokyo?
A: Next to Tokyo
Enes:  Hmm
Enes:  Should I come visit?
A: If you want
Enes: – –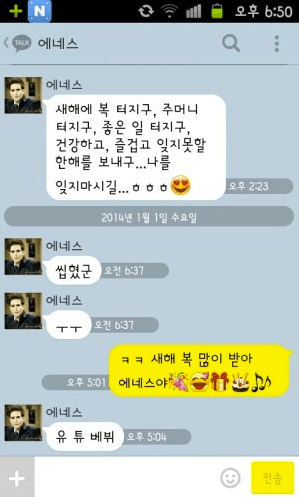 After posting these screenshots, "A" continues to say, "These are just couple of screen shots. The order is mixed up but don't doubt the authenticity of me or the Kakao Talk  account. This is Enes's actual account with his real phone number."
There were also additional Kakao Talk posts by a different woman (hereby known as "B") uploaded on the Non-Summit forums with the title, "Don't live like this Enes." This woman posted these pictures stating that she thought they were in a relationship, and that she only found out that he was married after she saw him appear on TV stating on the same episode he was married.
She posted a text along with the pictures, which Koreaboo has translated.
1. Some might say we are just close but honestly most people would think we were a couple and I did as well. I guess it depends on the perspective.

2. I have a lot more photos, I will upload them later.

3. It's not just the Kakao Talk we exchanged, I know his number as well.

4. He told me his name was Nick. His nickname and Kakao Story name was NS.K. I didn't really think much of it back then, but I got chills when I saw him on TV and realized what it meant. I can't say for sure but I couldn't help thinking he did this a lot and that's why he used a fake name..

5. I saw him on TV by coincidence. ( I really don't watch TV that often). I thought wow oppa's on TV (He mentioned that he did TV as a side job, so I wasn't surprised). I saw his name was Enes Kaya but he had told me he was half Turkish- half Italian so I accepted that too but…HE was MARRIED??????

Hul….Daebak;;; I was so shocked

(He probably doesn't even know it's me writing this. Well he might if he sees my Kakao Talk)

I pretended I didn't know and started talking to him less and less and distancing myself.

He never told me he was married (I almost fainted out of shock)

I found out everything about him on the show he was on.

And searched him. I just got played but I am at fault too, god the world is scary….
People kept doubting her story so she uploaded pictures and voicefiles of Enes as well with this link:
http://gall.dcinside.com/board/view/?id=nonsummit&no=100080&page=1&serVal=%EA%B3%A0%EC%9D%8C%EC%A7%88&s_type=all&ser_pos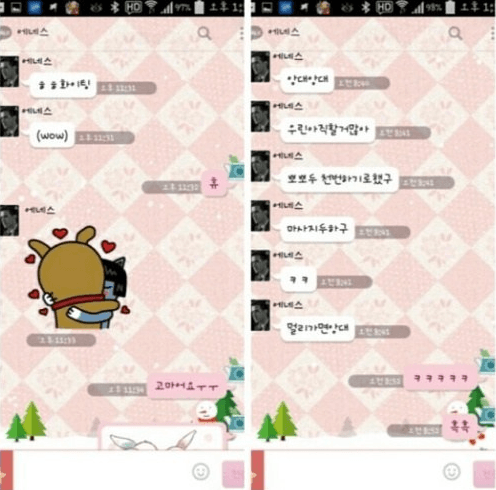 Enes: ㅎ ㅎ Fighting!
B: Sigh.
Enes: *Kissing emoticon*
B: Thank you ㅜㅜ
————————————-
Enes: No No
Enes:  We still have a lot to do
Enes:  You owe me a kiss
Enes:  A massage too
Enes:  ㅋㅋ
Enes:  Don't go too far
B: ㅋㅋㅋㅋ
B: Sob~~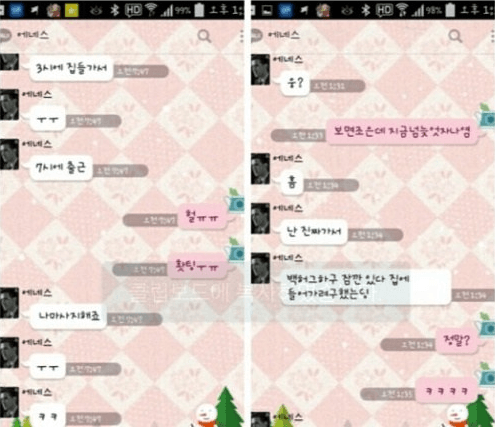 Enes:  Getting home at 3:00
Enes: : ㅜㅜ
Enes:  I have to go to work at 7:00 too
B: Hul ㅠㅠ
B: Fighting ㅠㅠ
Enes:  Can you give me a massage?
Enes: : ㅜㅜ
Enes:  ㅋㅋ
Enes:  Huh?
B: I want to see you too, but it's too late
Enes:  Hmm
Enes:  I was going to
Enes:  Just go and give you a back hug for a bit and come back
B: Really?
B: ㅋㅋㅋㅋ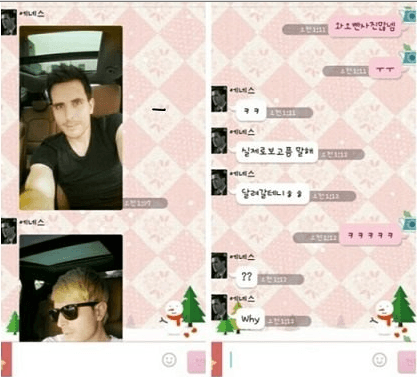 B: Wow oppa you have so many pictures
B:  ㅜㅜ
Enes: ㅋㅋㅋ
Enes:  Tell me if you want to meet up in real life
Enes: I'll run to you
B: ㅋㅋㅋㅋㅋ
Enes: ??
Enes: why
——————
Below is a post by yet another woman (hereby known as "C") and B's reply to it: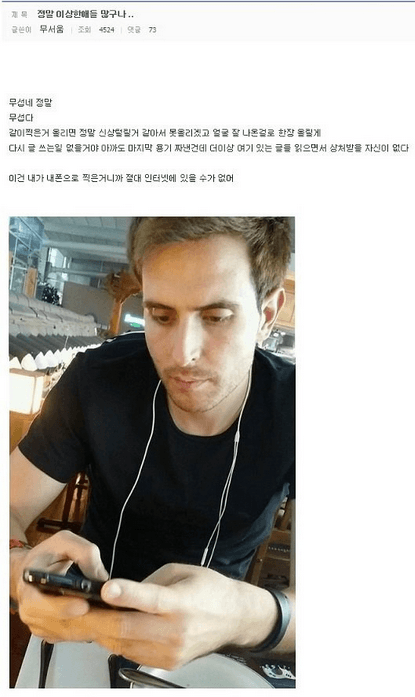 "Scary, this is really scary.
If I post a picture of us together, I feel like I'm going to get identified so I'll post a picture of just him. I probably won't write again, this is my last straw, I don't want to be criticized here.
There is no way this is on the net because I took it with my phone."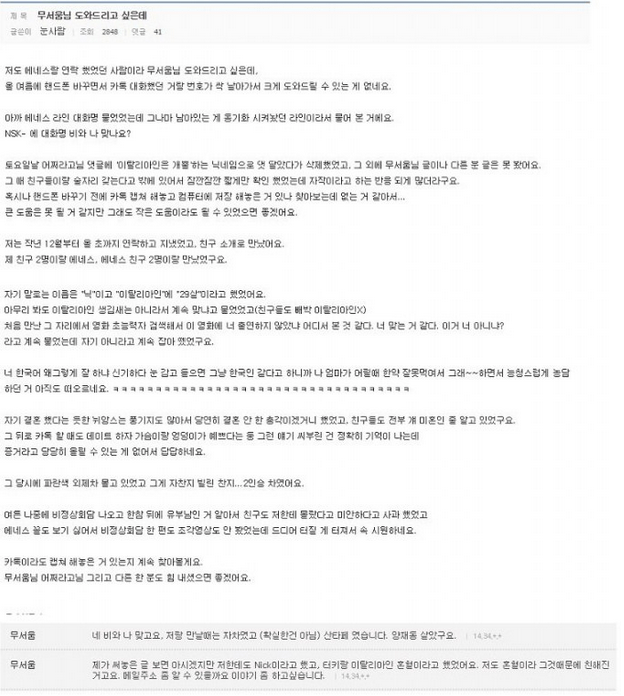 B: I used to talk to Enes and I want to help you. But I changed my phone, so I don't have much evidence. I heard about Enes's line ID some time ago.
I still have line because that was embedded into my phone. Is he NSK-Rain and me?
On Saturday I checked on the post here and there and saw people were criticizing you saying that this is fake and I've been looking for evidence but I couldn't find any. I will help you in what little way I can.
I met him early last December through a friend. Me and my 2 friends were with Enes and his 2 friends.
He told me his name was Nick, that he was 29 years old he said he was Italian. I didn't think he was Italian so I kept asking him about it (My friends didn't think so either)
I searched up the "Haunters" and asked him if he was in it because I thought I recognized him but he kept saying no.
I told him he was good at Korean and that if I closed my eyes he sounded like a Korean. He joked that his mother fed him oriental medicine when he was young. ㅋㅋㅋㅋㅋㅋㅋㅋㅋㅋㅋㅋㅋㅋ
He didn't even hint at the fact that he was married, so me and all my friends thought he was single. He messaged me asking me on dates, telling me my breasts and ass were pretty, but I don't have any evidence of those things..
He drove a blue foreign car back then, but I don't know if he rented it or it was his, but it was a two seater.
I found out later when he was on 'Non-Summit.' My friend apologized saying she didn't know he was married. I'm so relieved this was revealed. I didn't even watch the show because he disgusted me.
I'll keep looking for evidence fighting to all the victims!
(Comments)
C: Yes it was Rain and me. He had a Santafe when we used to meet (not 100% sure if it was his). He used to live in Yangjae, and as you can read, he told me his name was Nick and he was half Turkish and half Italian. I got close to him because he said he was half. Can I get your email, I would like to talk more.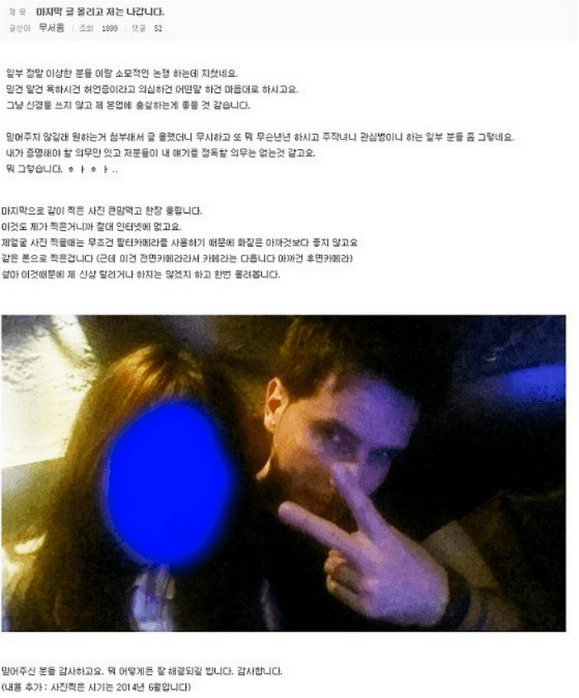 Title: This is my last post
I am tired of arguing with a few weird people, and I don't care if you believe me or believe that I'm a compulsive liar. I would rather forget about this and get back to my life. 
I guess even when I post evidence, there are those who tell me I'm a lying bitch, I guess you don't even feel the need to read things when I post evidence. 
Sigh.
The last photo is of me and him together. I'm uploading this after much thought and since I took this photo, it won't be anywhere on the internet. 
I use filters for selfies so the picture quality is worse. It was by the same phone, but I used the front camera so it might seem different.
I hope this doesn't end up revealing who I am.
 Thank you to those who believed me and I hope everything goes well.
(P.S. The photo was taken June 2014)
Share This Post