Epik High releases additional artist lineup for upcoming album, "Shoebox" + announces Preview Night
After teasing fans with the a second image teaser for their "Born Hater" MV featuring B.I, Epik High has revealed another full set of artists with whom they will be working on their new album. The trio will be holding a preview night for the upcoming release.
Epik High released a star-studded lineup of artists who will be collaborating on the album, including Big Bang's Taeyang, Dynamic Duo's Gaeko, Nell's Kim Jong Wan, Younha, Jay Park, Verbal Jint, WINNER's Mino, Beenzino, B.I., Bobby, MYK, TBNY's Yankie, and Roller Coaster's Cho Won Sun. In the image released on the YG Family site, all the artists are holding up their shoes in reference to the album name, Shoebox,
Additionally, member Tablo has also released a string of individual pictures on his Instagram, with different captions for each image. In these images, fans can get a clearer look at the featuring artists and the interesting Shoebox concept.
Furthermore, Epik High will be holding a Preview Night on October 17th for their newest album, Shoebox, Through the event, a select number of lucky fans will be able to listen to songs from the album before it is released online on October 21st and in stores on October 22nd.
Their first album in two years since 99 will have a total of twelve songs. These include their two title songs "Wasteful Ending" and "Spoiler". Limited editions albums with randomized autographs of the members are also expected to be released.
With the release of their album, they will also be set to take the stage at Blue Square, Samsung Card Hall for their "Parade 2014" concerts on November 15th and 16th. Tablo's daughter Haru has also shown support for Epik High's newest release.
Are you excited too?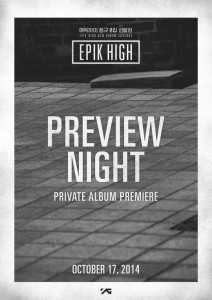 TABLO in EPIK HIGH '신발장' / 'SHOEBOX'
MITHRA in EPIK HIGH '신발장' / 'SHOEBOX'
B.I of IKON in EPIK HIGH '신발장' / 'SHOEBOX'
MINO of WINNER in EPIK HIGH '신발장' / 'SHOEBOX'
Share This Post