EXO's Baekhyun Under Criticism From Netizens For Allegedly "Rude" Behavior At Airport
EXO's Baekhyun has come under fire recently for allegedly being rude to an airport employee while he was on his way to a scheduled event. 
Fan photos of Baekhyun at the airport show him accepting his ticket from an airport employee using his mouth, a move that many Koreans have been calling extremely rude and disrespectful. However, fans have defended Baekhyun, suggesting that he might've used his mouth to receive the ticket because his hands were full holding onto his luggage.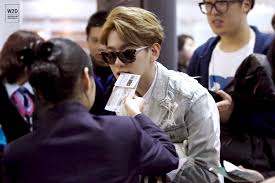 Source: Instiz
Check out this video compilation of some of Baekhyun's funniest moments caught on camera below:

Share This Post