[★TRENDING] Fans berate former iKON trainee Yang Hong Suk after digging up past Cyworld posts
Former iKON trainee and now recently announced Cube Entertainment trainee Yang Hong Suk has recently been under fire from fans' criticism after his Cyworld account filled with appalling comments and posts was dug up and brought to light.
On July 17th, a Nate Pann post titled, "The Cyworld of former iKON trainee Yang Hong Suk has been dug up keke," took fourth place on the top 10 list of trending posts with nearly 100,000 views, 561 thumbs-ups, and 260 comments.
The post was filled with screen-captures of the trainee's Cyworld account, a popular Korean SNS outlet that was widely used in the early 2000's and 2010's. Many of these posts display Yang Hong Suk's incessant use of profanity and name-calling towards individuals who seem to be his "ilchon," or the Cyworld term for "friends."
The author of this post uploaded quite a number of screenshots, but did not have much to say other than, "The amount of profanity he uses is well-worth seeing, kekekekekeke. He makes degrading comments about women and even cusses kekeke. Oh, and didn't they say he went into Cube as a trainee? Kekekeke this is hilarious."
The following are the screen-capture photos from the Nate Pann post translated directly by Koreaboo.
(Warning: The comments included in the following translations may contain heavy, uncensored profanity.)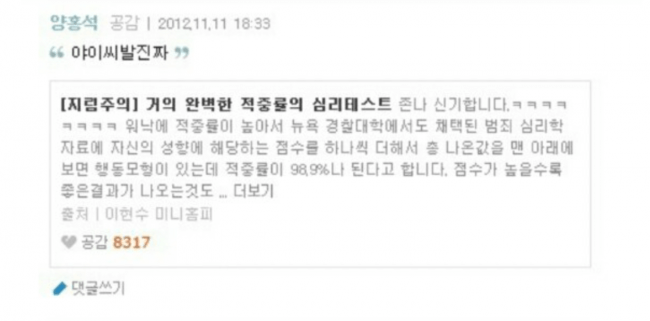 A post titled, "[Beware of peeing your pants] A psychological test that has a near-perfect accuracy…" regarding an intriguing psychological test used on criminals was shared by Yang Hong Suk from another person's Cyworld onto his own with a comment that reads, "Fuck. Seriously."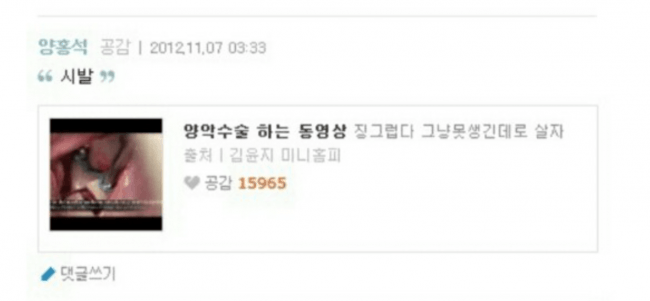 A video titled, "A clip on how double jaw surgery is performed: This is so gross, let's just live as our ugly selves," was shared onto Yang Hong Suk's Cyworld account with his own comment, "Fuck."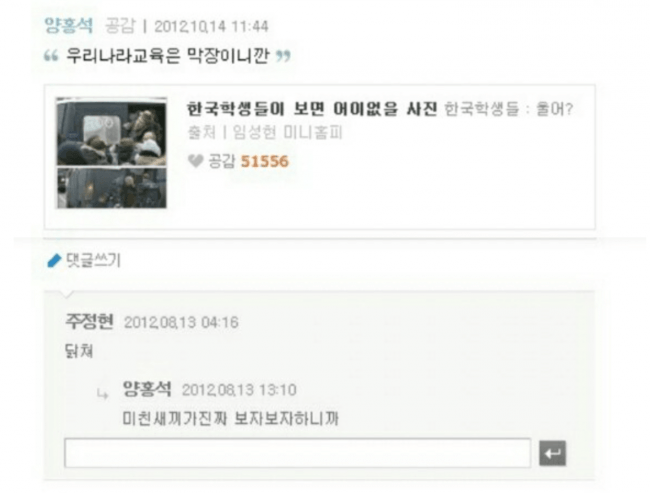 A compilation of photos titled, "Photos that will make South Korean students dumbfounded: Are you crying?" was also shared by Yang Hong Suk onto his own profile with the comment, "Because our nation's education is an unexpected minefield," a comment made to mock the South Korean education system.
However, when one of his ilchons, or friends, commented on his shared post, "Shut the hell up," Yang Hong Suk replied, "You crazy bastard, seriously. Acting up even after I've been ignoring you."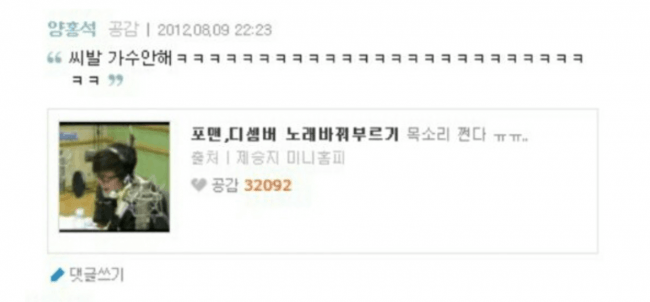 On another video that was shared onto his own Cyworld account titled, "4MEN and December switch and sing each other's songs: Their voices are so awesome ㅠㅠ.." Yang Hong Suk added his comment, "Fuck, I give up on becoming a singer kekekekekekekekekekkekekekekekekekekeke."
Some fans failed to hide their disappointment when they saw that Yang Hong Suk had shared a post titled, "(Rated 19+) When you tell your girlfriend you want to 'do it' with her: kekekekekekekekekkekekeke" and added his own comment, "Kekekekekekekekekekekekeke."

On an old photo of a British man mocking a Korean from behind on television titled, "A British man's actions after Korea enters the top 4 semi-finals.JPG: English is the country of gentlemen? Yeah, right. My ass it's the best kekekekeke," Yang Hong Suk shared the post with his own comment, "Fucking brainless idiots who don't know anything are talking shit about the UK.. this is why people need to be smart."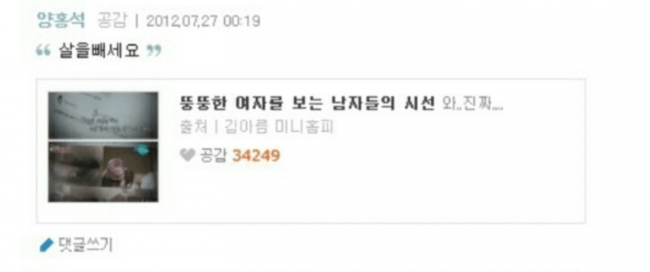 On a series of photos that was titled, "Men's perspectives and views of fat women: Wow, seriously…." Yang Hong Suk shared the post onto his own Cyworld with the short, yet bold comment, "Lose weight."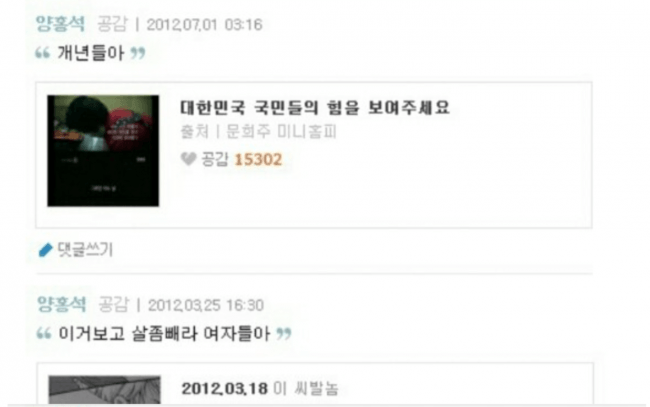 The top entry is a post titled, "The citizens of the Republic of Korea, please show us your strength," which the trainee shared onto his own profile with the derogatory comment, "You fucking bitches."
The second entry seen underneath is said to have been a photo of an overweight young woman who was dumped by her former boyfriend with the caption, "This fucking bastard." However, Yang Hong Suk shared this same photo onto his own Cyworld with the comment, "Girls, come look at this and lose some weight."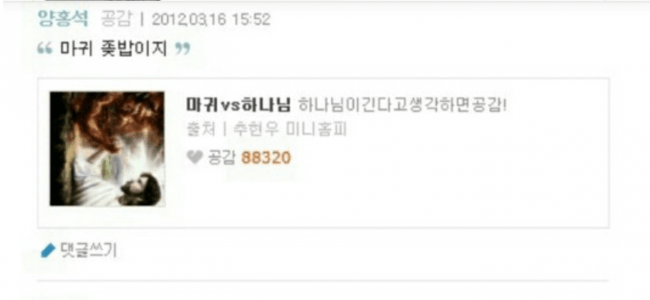 On a photo of Satan and God titled, "Satan vs God: If you agree that God will win, then click 'agree'!" Yang Hong Suk shared the photo and commented, "Satan is a dick."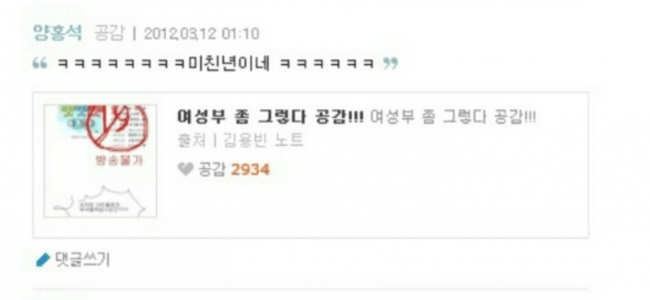 Though the details of the original post that was shared by Yang Hong Suk are not clear, the trainee commented on a post titled, "Click 'agree' if you think the Gender Equality Administration is dislikable!!!" with his own words, "Kekekekekekeke what crazy bitches kekekekeke."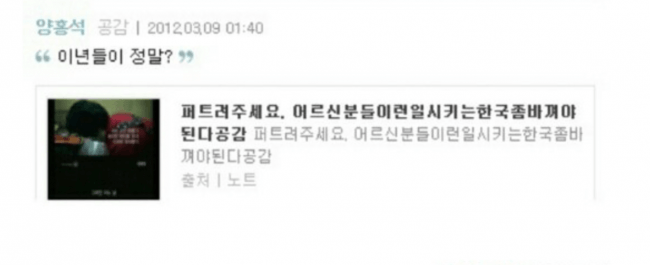 On a post regarding complaints about how the nation labors elders into impossibly hard work, the trainee shared the post and commented, "Are these bitches serious?"
The last of the screenshots from the Pann post is a "wall comment" left by a female friend of Yang Hong Suk who wrote, "Honeymoon >< Wow ke, you must be really happy keke," in which the trainee responded, "Shut your trap, you fucking bitch.ㅡㅡ;;"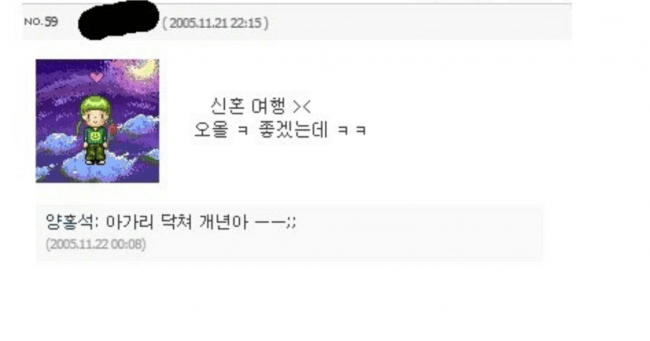 The author of the Pann post edited her entry several minutes later with a new set of screen-captures and the comment, "Oh, and here's his Lovestagram (Instagram) account activity along with his girlfriend's."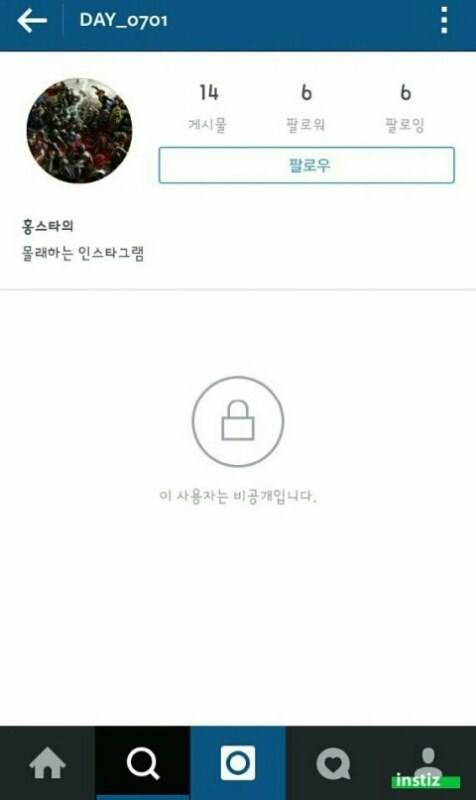 Biography: Hong Star's Private Instagram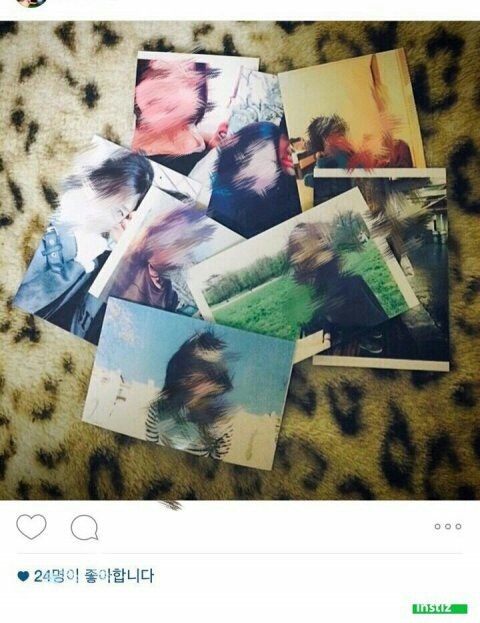 Seen in the pictures above are what seems to be blurred versions of Yang Hong Suk along with his alleged girlfriend.
In the photo below, Yang Hong Suk's alleged girlfriend (going by the username grelkgreom) posts a selca with the caption, "I wish he's with me this moment #TheBedIsChemistry #ImSleepy #IMissYou #bed #missyou."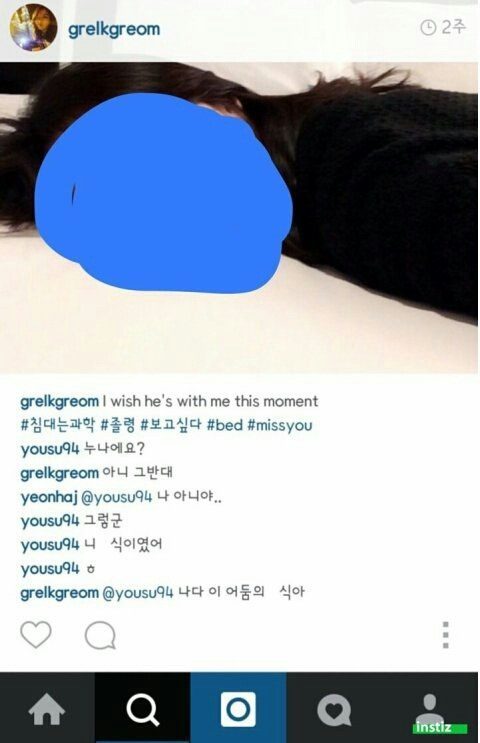 An individual who seems to be grelkgreom's friend asks the user whether the selca is of herself in which she first jokes saying, "No, this isn't me," but later admits that the selca indeed belongs to herself.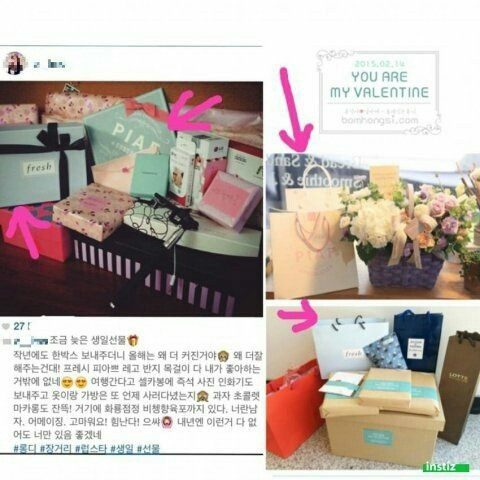 The "girlfriend" also posted a compilation of gift photos that were given to her by what seems to be Yang Hong Suk, although it was never directly stated. The caption above reads, "A slightly belated birthday present. Last year he sent me a box as well, but how is it that it's become [an even bigger gift] this year? Why are you being this much better to me! Fresh, PIAF, Lego, rings, and necklaces, these are all the things I love the most. I mentioned that I was going on a vacation so he even sent me a selfie-stick and a portable photo printer. And when did he go out to buy clothes and a purse? A whole bunch of cookies, chocolates, and macarons, too! On top of all that, he got me the most important, Bee Cheng Hiang beef jerky. A guy like you. Amazing. Thank you! I feel so strengthened! Eushya! Next year I don't need any of this, I just wish I have you. #LongD #LongDistance #Lovestagram #Birthday #Present."
However, regarding this photo full of gifts, fans noticed that Yang Hong Suk gifted this alleged girlfriend of his the same gift that was given to him by his own fans. The gift seen in the photo with the brand Fresh was originally gifted to the trainee by his support fans, which was then re-gifted to his "girlfriend." When fans confronted the trainee about the gift, instead of apologizing, he claimed to have purchased the same gift himself and was then later seen mocking those same fans on a different account with the alleged girlfriend.
The original author of this post also added a third comment, "Also, the two of them attended a Sung Si Kyung concert together and afterwards, Yang Hong Suk changed his username [from DAY_0701] to sungsibalnom0701. *Shivers* What a psycho."
The username sungsibalnom0701 is a play off of singer Sung Si Kyung's name and the Korean profanity "sibal-nom" which means, "fucking bastard."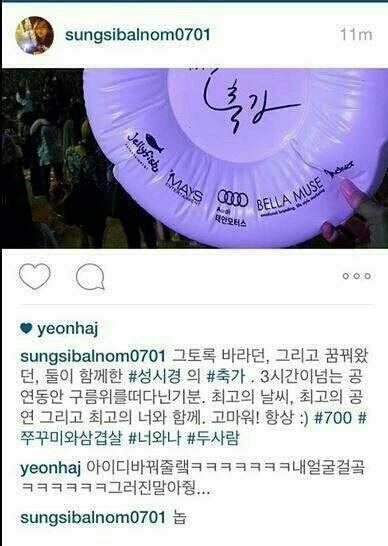 The caption of the photo reads, "The ultimate moment that I've been waiting for, the two of us spending #SungSiKyung's #CongratulatorySong together. It felt like I was floating on a cloud for the whole 3 hours the concert lasted. It was the best weather, the best performance, and the best of you and I. Thanks! Always 🙂 #700 #OctopusAndPorkBelly #YouAndMe #TwoPeople."
(Sung Si Kyung's Congratulatory Song is the name of Sung Si Kyung's concert tour.)
In response to this photo, the alleged girlfriend who has now changed her username to yeonhaj commented, "Could you please change your username? Kekekekekeke Especially if you're using my face as your profile picture kekekeke, please don't…" However, Yang Hong Suk responded, "Nope."
Many of the top-voted netizen comments regarding this post were filled with disappointment and harsh criticisms such as, "Oh my goodness.. this is insane… I even rooted for Yang Hong Suk during Mix and Match, but after seeing all this, I'm starting to think that I'm glad Jung Chan Woo was voted into the team… I recently began accepting Jung Chan Woo and he's been growing on me, but I always felt sad that Yang Hong Suk didn't make it… but after seeing this, my whole stance has been switched kekeke……," "He was also seen mocking actor Park Bo Gum for being ugly with his girlfriend after seeing him as a guest audience at Sung Si Kyung's concert. Who the hell do you think you are talking shit on Park Bo Gum? You must not look in the mirror," and "Who does he think he is talking smack about Park Bo Gum and saying he's ugly? He's way more popular and handsome than yourself."
Other comments read, "Wow, this is extremely shocking and unexpected. When I watched Mix and Match, I thought he always looked like he would have a nice personality so I was fairly fond of him, but damn.. kekekeke… it really is true that you should never judge a celebrity just from their external appearances. This seriously crushes his image" and "Cube Entertainment, are you guys not looking into personalities anymore? Please, Cube, think about your own image first…"
Source: Nate Pann
Share This Post