Fans celebrate #3yearswithEXO as group commemorate event on "Super Junior's Kiss the Radio"
April 8th is a special day for both EXO and EXO-Ls as it marks the official debut date for the male idol group.
Debuting three years ago on 2012, EXO released their single "MAMA" and taking their first stage on SBS Inkigayo after months of teasing with videos and pre-releases singles, "What Is Love" and "History." Their first mini-album MAMA was released the next day on the 9th.
Since then, EXO has proven themselves to be a force to be reckoned with as they reached an amazing album record sale with their first studio album XOXO, which they are quickly following up to break with their recent second studio album EXODUS. Currently, the group has been enjoying great success and popularity with their title track "Call Me Baby," winning their first award this past Sunday on SBS Inkigayo.
In celebration of the anniversary, fans not only trended the hashtag #3yearswithEXO, but the Korean hashtag also made its way in Twitter's worldwide trends. "슈카라" was also spotted as the group appeared on the Super Junior radio-hosted show Super Junior's Kiss The Radio, or affectionately known as Sukira, on the 7th as well but unfortunately without members Tao and Lay.
Radio host Ryeowook announced on the air, "Tomorrow is EXO's 3rd debut anniversary," and cheered them on as he clapped for them happily.
Happy anniversary EXO!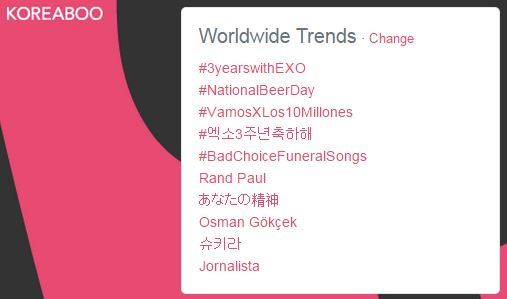 Source: TV Report
Share This Post