Fans go wild over legendary "three shot" of top celebrities
After airing of recent episode of Infinite Challenge, netizens rave over a shot of their three top celebrities.
The recent episode of Infinite Challenge 2015 Music Festival has been a hot discussion lately amongst fans and netizens. But within the episode, there is a shot that a lot of fans and netizens are calling the Three Shot of Top Celebrities."
Originally posted on Pann, netizens rave over a shot of the three top celebrities of each other categories.
Titled "GD, IU and Yoo Jae Suk Three Shot," here is the direct translation of the post and comments below.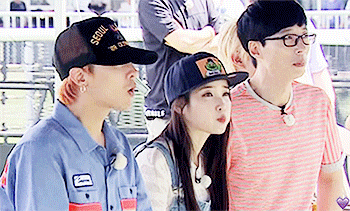 "They look like family with G-Dragon and IU as siblings and Yoo Jae Suk as an uncle T_T So cutee"

[+404, -11] The tops of each of their categories… Really this is a three-shot that we will never see again
[+245, -29] IU is such a strong character isn't she? She is good at everything
[+196, -6] Everyone is so freaking cute hahaha GD is cute but as a IU fan, she is so freaking cute chewing the food and leaning forward..
Share This Post