Fans show support for SONAMOO by trending #SONAMOO_Deja Vu
Fans of SONAMOO have shown their support for the rookie girl group by holding a special "mention party," trending #SONAMOO_Deja Vu.
On January 7th, SONAMOO held a special event with their fans on Twitter, which took place between 1PM and 2PM KST. During the allotted time, fans were to choose the best still from the girl group's debut music video "Déjà Vu," and the members would respond to the chosen still with a photo imitation using the tag #SONAMOO_Deja Vu.
According to reports, fans from all the world such as Japan, the U.S, Peru, Malaysia, including South Korea, and more participated. The trending of the keyword in Korea revealed just how much support and how big their fan base have grown since their debut.
In related news, SONAMOO will be attending a fan sign event at the IFC Mall in Yeouido to greet fans.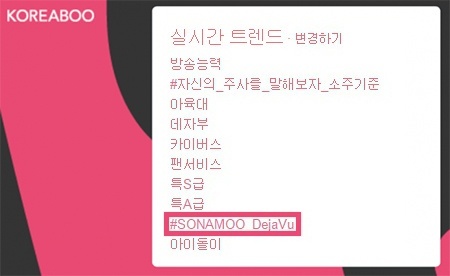 Share This Post