Female stars and the secret workforce behind their beauty revealed
Hair and make-up are vital to celebrities, and an important component to a star's looks is the salon that they go to.
While there are many salons in Korea, stars go to a variety of different salons for several reasons. TV Report recently released an article detailing information about Korea's top salons and the celebrities that frequent them. A translation of the article can be found below: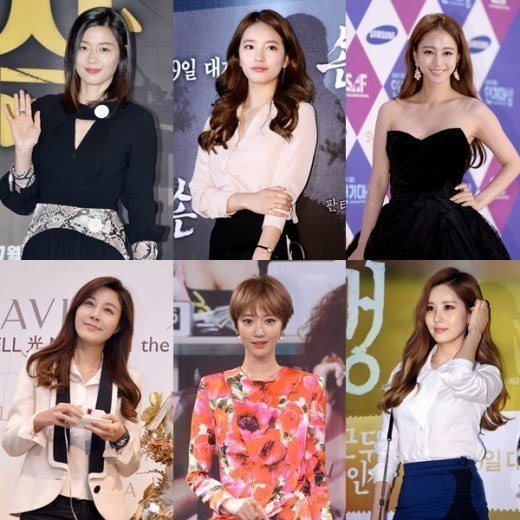 On a work day, stars usually start by going to the salon. They must have their hair and makeup done perfectly before heading off to their schedules. Sometimes, they'll even have their staff join them on set to touch them up as the day goes by.
On days where they don't have any schedules, celebrities will still go to the salon every once in a while to maintain their looks. The salon isn't just for getting hair and makeup done, but is also essential for creating and keeping their "image." 
When asked about how salons are chosen, an entertainment company representative stated, "We don't just pick salons that our celebrities want to go to. From a company's perspective, we need to balance out the image that we think will match a celebrity and the image that she wants for herself. Stars generally use the same salon for about two or three years, but not without variation because one salon might be better at sexy looks while another is better at more innocent-looking ones."
Stars tend to test out several different salons first before making a final decision on which one they feel will fit their image the best. Generally, stylists will move with celebrities if they change salons because they know their skin condition and favorite looks the best. 
Here are some of the top salons in Korea and the stars that frequent them:
Musee Neuf: Kim Hyo Jin, Shin Se Kyung, Chun Woo Hee, Kang Hye Jung
A by Bom: Han Ye Seul, Park Soo Jin, Han Yeri
Jungsaemmool: Han Hye Jin, Wonder Girls, miss A (Fei and Jia), Park Joomi
Jenny House: Han Ji Min, Son Ye Jin, Lee Min Jung, Moon Chae Won, Son Dambi
Lee Kyung Min Foret: Hwang Jung Eum, Kang Sora
Style Floor: Moon Geun Young, Nam Bora
S Hue: Han Chae Young
Lee Hee Hair & Makeup: Uhm Jung Hwa, Hong Eun Hee
Azurer: Kim So Yeon, Son Dambi
Aura: Go Jun Hee, Jang Jae In, Suzy (personal schedules), Lee Chung Ah, Lee Da Hae
Boris: Kim Ha Neul, So Yi Hyun
Sunsoo: Girls' Generation, Red Velvet, Girl's Day, AOA, Ga In, Kim Ok Bin, Jung Ryeo Won
Freelancers: Jun Ji Hyun, Gong Hyo Jin, Kim Min Hee, Jun Do Yeon, Suzy

Pricing can vary widely depending on the celebrity and the type of work they need done. Sometimes, salon workers need to follow the stars on to drama sets. For short projects like pictorials and CFs, salons are paid daily, but for longer projects like movies or dramas, they're paid for monthly.
Because most celebrities aren't sponsored by salons, all of the work done is usually paid for, but popular stars tend to get deeper discounts.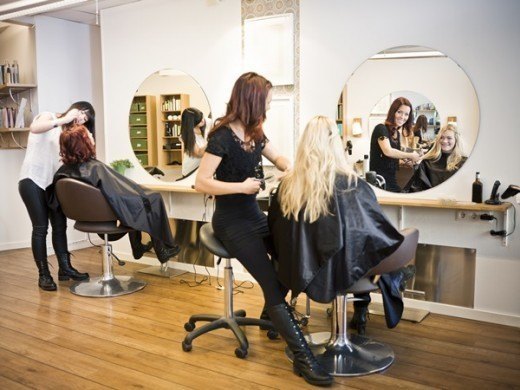 Although they are short, CF shoots are the most expensive for celebrities, and can cost from $3,000 up to about $5,000 a day. More famous makeup artists and hair designers charge even more. For pictorials and movies, the advertisement agency and production companies will usually cover the costs rather than the star's agency, whereas for dramas, the agencies typically pay.
When filming for a drama, stars will go to the salon early in the morning and have a top stylist do everything for them, and then a staff member will follow the star on set throughout the day to do touch-ups. For filming movies, however, depending on the roll, the makeup procedure is different. If the film is in a modern setting, they star will use a regular salon. But for other works such as historical concepts, they're provided a costume makeup team.
For pictorials and filming, salons will often follow a star overseas. Most magazines will have collaborations with some designers, but stars are able to select which salons they work with. Occasionally stars will bring the director of the salon with them, but most often they select the staff member whose worked with them the most as a sign of gratitude.
Idol group members tend to all get styled by the same salon, with the exception of some older idols who use separate salons that they're more comfortable with respectively. Idol groups follow the same schedule as actresses in that they start their day off by going to the salon, but they work with more staff members throughout the day. Typically, a group with around five members tends to have two or three staff members to help them touch up their makeup throughout their schedules.
The head designer of a salon typically plays a part in a group's concept designs, joining in on album jacket filmings and music video filming. The director of a salon will also join idols at concerts and fan meetings.
Source: TV Report
Share This Post