Girls' Generation in midst of lip-syncing controversy
Girls' Generation has been criticized for alleged lip-syncing on a music program after a photo went viral on Korean online communities.
Girls' Generation, a group that is on their 9th year of debut, is suffering from a lip-syncing controversy.
A netizen posted a photo on a online community titled "Girls' Generation Busted With Pre-Recorded Singing" on July 28th that has been going viral.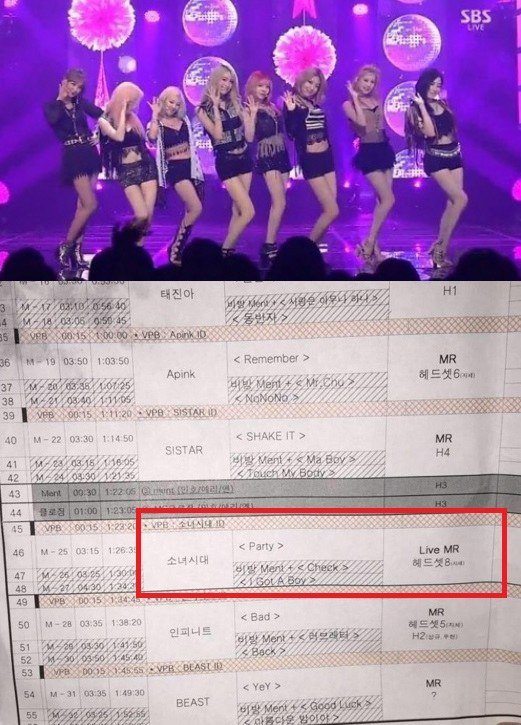 The picture included the order of group performances, their songs and the musical accompaniment. The orders of the stage performances included groups such as A Pink, SISTAR, Girls' Generation, INFINTE and BEAST.
The controversy started with the musical accompaniment written next to Girls' Generation. Although other groups had the normal MR (Music Recorded) listed next to them, Girls' Generation had 'Live MR' written next to them. Live MR is a song accompaniment that has been previously recorded to imitate an actual live performance. This means that the performance is, in actuality, a lip-synced stage.
Various netizens have been criticizing Girls' Generation stating that this action is unacceptable due to their years of experience in the industry. Many claimed that it was already a known fact that Girls' Generation has been doing this for a long time.
[ +607 / -62] What could they do since they are not improving at singing
[ +538 / -67] Lip-syncing for SM artists is needed by their culture
[ +472 / -44] I was wondering why only Girls' Generation had the 'Live MR' next to them but now I know what it means…..
Source: NATE
Share This Post